UH Manoa Chancellor's Citation for Meritorious Teaching
Manoa's Meritorious Teachers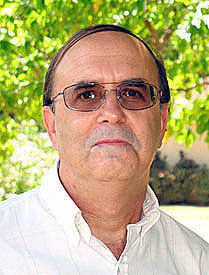 David Haymer
Department of Cell and Molecular Biology
David Haymer is a professor of cell and molecular biology. He believes that he can best serve as a guide in the learning process by providing students with a solid foundation, a framework of basic knowledge that they can build on.
Haymer also strives to help students learn to do critical thinking about new information they might discover on their own.
Haymer taught all of the undergraduate core courses in the cell and molecular biology track for biology majors. He also created a new course, communication in the biological sciences, to help students develop their oral and written communication skills as future scientists.
The University of Hawai'i at Manoa Chancellor's Citation for Meritorious Teaching recognizes Manoa faculty members who have made significant contributions to teaching and student learning.
Select a recipient for more about that individual or view winners from 2002–2006.
2011
2010
2009

Kate Lingley
Art and Art History

Lois Magnussen
Nursing
2008
2007