UH Manoa Chancellor's Citation for Meritorious Teaching
Manoa's Meritorious Teachers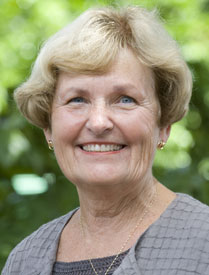 Janice Shoultz
School of Nursing and Dental Hygiene
Janice Shoultz is a professor of nursing in the School of Nursing and Dental Hygiene. She is a key leader in the school's effort to be directly involved with community development and healthcare in the state.
Her specific nursing goals with students include development of lifelong learning, critical thinking and effective communication. Shoultz is an expert on the principles of community based participatory research.
For a number of years, Shoultz has secured federal and state funding and provided leadership for the Quentin Burdick Rural Health Project that offered interdisciplinary students an opportunity to experience the healthcare needs of rural communities.
She has coordinated and taught two interdisciplinary courses, Rural Health Teams and Child Welfare. The classes she teaches contribute to the programmatic and institutional goals of the nursing school.
The University of Hawai'i at Manoa Chancellor's Citation for Meritorious Teaching recognizes Manoa faculty members who have made significant contributions to teaching and student learning.
Select a recipient for more about that individual or view winners from 2002–2006.
2011
2010
2009

Kate Lingley
Art and Art History

Lois Magnussen
Nursing
2008
2007