Meet the UH Board of Regents
Regent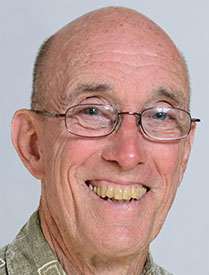 Randolph G. Moore
Randolph G. Moore is a retired business executive, middle school teacher, and Department of Education administrator. He remains active in a variety of community organizations.
Born and raised in Honolulu, Moore graduated from Punahou School, Swarthmore College and the Stanford University Graduate School of Business. He completed his post-baccalaureate training at Chaminade University and was licensed to teach secondary mathematics in Hawai'i's public schools.
After two years as a Peace Corps volunteer in a public administration project in Liberia, Moore returned home to begin a 35-year business career that included executive positions with Castle and Cooke, Moloka'i Ranch, and Kane'ohe Ranch.
Retiring from Kane'ohe Ranch, Moore taught mathematics for three years at Central Middle School next to downtown Honolulu, then transferred to the Department of Education's state office to assist for 15 months with the implementation of Act 51—the 2004 Legislature's Reinventing Education Act. He spent his final 6½ years at DOE as assistant superintendent for school facilities and support services.
Moore has been a director or trustee of a number of nonprofit organizations and for-profit companies and a member of various government boards and commissions. He is currently board chair and director of the Hawai'i Housing Development Corporation and a director of Grove Farm Company, Inc.
Moore lives in Honolulu with his wife, Lynne Johnson, who lectures at the University of Hawai'i in musicology. They have two daughters. One is an English teacher at Kaimuki Middle School. The other is a leader of active outdoor tours for the travel company Backroads.
Select a regent to learn more about that individual. Regents serve through June 30 of the indicated year.