Free Commuter Cycling 101 Workshop
March 3, 1:00pm - 3:00pm
Mānoa Campus, Moore 112
---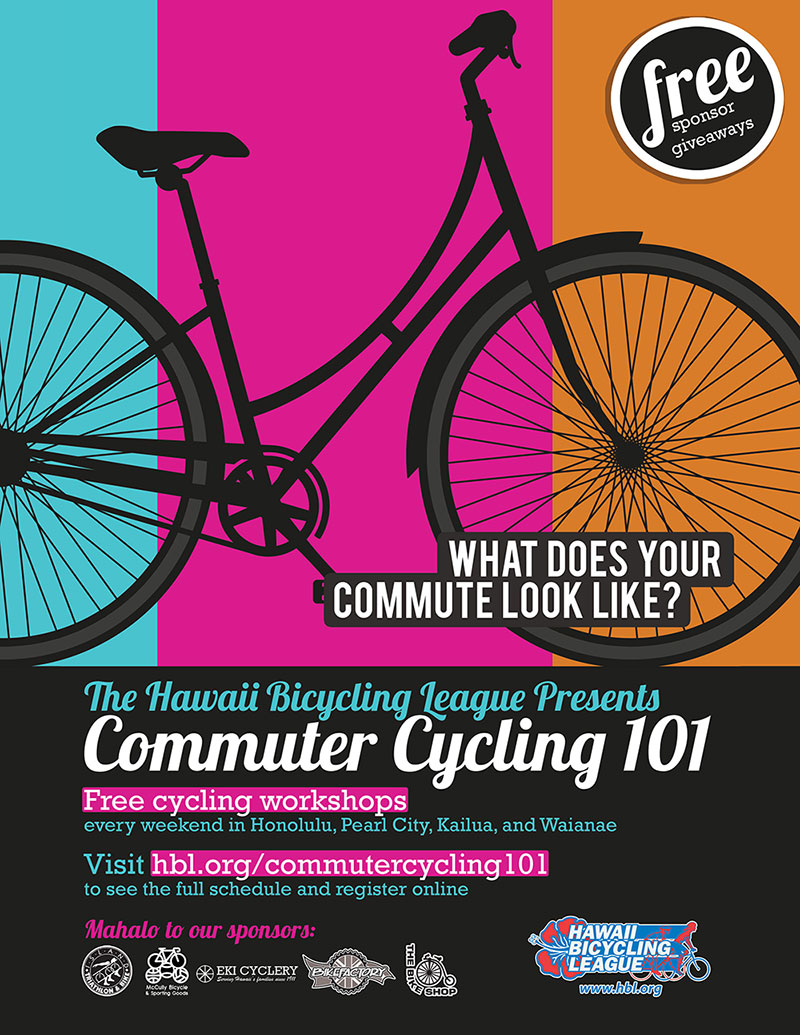 Are you tired of sitting in traffic? Do you want to make the most of our beautiful island? Join us for Commuter Cycling 101 and learn how to travel by bike! Cycling is not only a great way to stay in shape, but great for the environment. Let us show you how to commute to work, school, and even the beach.

This 2-hour bicycling course begins with coverage of safe cycling practices in a classroom setting. Topics that will be covered include: your rights as a cyclist, rules of the road, equipment safety checks, lane positioning and more. The class then moves to a large parking area to practice riding drills and finishes with a group ride through the nearby community, combining classroom knowledge and road skills. Ride with our instructors to develop the confidence to do it yourself.

Classes are taught by League Cycling Instructors certified by the League of American Bicyclists. Funding provided by the Hawaii Department of Transportation, and classes are sponsored by the following local bike shops: BIKEFACTORY, The Bike Shop, Eki Cyclery, IT&B, and McCully Bicycle and Sporting Goods.

Register at http://hbl.org/commutercycling101

Thanks to our sponsors, we have lots of goodies to give away to participants. The first person to register for each class will receive a $15 gift card to one of our sponsoring bike shops. The next 5 registrants will receive $10 gift cards. Don't worry--everyone gets something from our generous sponsors for attending. We're even giving away gift cards to individuals that refer their friends, so spread the word! Let us know who referred you, and register EARLY!

Classes are limited to 15 students per session, and will fill up fast. Enroll now!
Ticket Information
Free - Register at http://hbl.org/commutercycling101
Event Sponsor
Cycle Manoa, Mānoa Campus
More Information
Ambika, 808-735-5756, ambika@hbl.org, http://hbl.org/commutercycling101
---
Wednesday, March 29

9:00am

Nursing Practice Final Oral

Mānoa Campus, Zoom
9:00am

Natural Resources & Environmental Management Final Oral

Mānoa Campus, Sherman Lab 103 and Zoom Conferencing, Link Below.
10:00am

Graduation Fair - Spring 2023

Mānoa Campus, Campus Center Courtyard
10:30am

Roads Less Traveled: Ki Midiyanto Javanese Musician & Puppeteer

Mānoa Campus, Moore Hall Rm 258
11:00am

Nursing Practice Final Oral

Mānoa Campus, Zoom
12:00pm

Counter-Occupying Americanism in South Korea & Taiwan: Taking Back the Spaces

Mānoa Campus, Webinar
3:00pm

Job Search 101

Mānoa Campus, Zoom Meeting
3:00pm

Marine Biology Final Oral

Mānoa Campus, CMORE Hale Conf Room. Zoom Meeting ID: 950 7575 1292, Passcode: 629786
3:30pm

ORE student lightning talks

Mānoa Campus, Watanabe 112, Zoom Meeting, Please see description for Meeting ID and Passcode

Thursday, March 30

9:30am

East Asian Languages and Literature Final Oral

Mānoa Campus, Zoom meeting, https://hawaii.zoom.us/j/93385124867, Meeting ID: 933 8512 4867 Passcode: eall
11:00am

Psychology Final Oral

Mānoa Campus, Zoom Meeting ID: 992 7226 8423 Join Zoom Meeting https://zoom.us/j/99272268423
11:30am

Lunchbreak Mindfulness Series: The Spring Refresh

Mānoa Campus, Online
12:00pm

What Happened at Red Hill: A Talk by Marti Townsend

Mānoa Campus, 443 Saunders Hall
12:00pm

Brown Bag Biography with Betsy Fisher

Mānoa Campus, Biomed B-104 & Zoom
12:30pm

Appreciating Wayang Kulit - an introduction

Mānoa Campus, Music Department room 113 (gamelan room)
3:00pm

Imagery of the Orchid Pavilion Gathering

Mānoa Campus, Moore Hall 258
3:15pm

Nursing Practice Final Oral

Mānoa Campus, Zoom
4:30pm

Entrepreneurship Live with Greg Young, CEO of HawaiiUSA

Mānoa Campus, 2404 Maile Way, E402, Honolulu, HI, 96822

Friday, March 31

8:00am

Nursing Practice Final Oral

Mānoa Campus, Zoom
8:30am

11th Annual CPIS Student Conference 'Mapping Geneaologies'

Mānoa Campus, Campus Center 307, 308, and Executive Dining Room 2465 Campus Road
9:00am

SOEST Preview Day

Mānoa Campus, 1680 East-West Rd
10:00am

Nursing Practice Final Oral

Mānoa Campus, Zoom
11:30am

Assessment for Curricular Improvement Poster Exhibit

Mānoa Campus, Online through Zoom
12:00pm

Psychology Final Oral

Mānoa Campus, https://zoom.us/j/94634185531
1:30pm

Yoga for Stress Relief: All Levels Yoga Class

Mānoa Campus, Kuykendall 106 Events Room
2:00pm

Teaching About Africa in FG Courses

Mānoa Campus, Online
3:00pm

East-West Center Student Affiliate Program Info Session

Mānoa Campus, Zoom