Tim Miller in Sex! Body! Self!
March 11, 5:30pm - 7:00pm
Mānoa Campus, Kennedy Theatre
---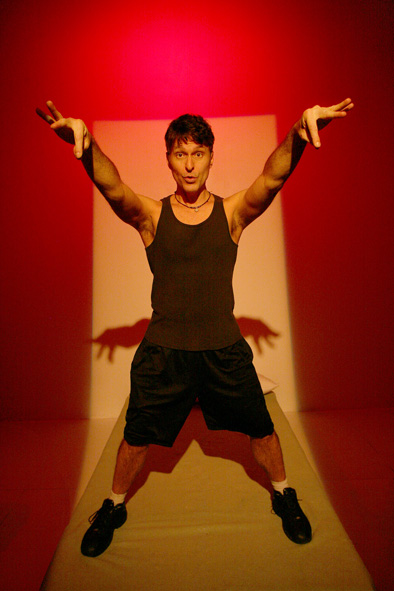 Free Event. Doors open at 5:00pm, seating is first-come, first-served.
In Sex! Body! Self!, internationally-acclaimed solo performer Tim Miller will share fierce and funny performance material as well as speak about how performance can be used to embolden communities and connect people with one another. Sex! Body! Self! is a highly stimulating and opinionated rant with performance about performance, identity, the culture wars and queer strategies for the future. Miller will be in residence at UHM March 11-15, 2013 and will work with UH Theatre and Dance students to create an original ensemble piece, Body Maps, to be performed on March 15. Miller gained international fame in 1990 as one of the "NEA Four", a group of performance artists whose grants to the U.S. National Endowment for the Arts (NEA) were vetoed by the NEA chair on the basis of subject matter. Miller's performance is sponsored by T.A.D.A. (Theatre and Dance Association), the University of Hawaiʻi at Mānoa Department of Theatre and Dance, and Women's Studies, and LGBTI Student Services, with funding from the Student Activity and Program Fee Board. BIO: Hailed for his humor and passion, Tim Miller's solo performances have been presented all over the world. He is the author of the books SHIRTS & SKIN, BODY BLOWS and 1001 BEDS. His theater works have been published in the play collections O Solo Homo: The New Queer Performance (1998) and Sharing the Delirium – Second Generation AIDS Plays and Performances (1993).
Ticket Information
Free
Event Sponsor
Theatre and Dance, Mānoa Campus
More Information
Lurana O'Malley, 956-9609, omalley@hawaii.edu
---
Monday, March 11

10:30am

FSHN Council Soup Fundraiser

Mānoa Campus, Agricultural Science 1955 East-West Road, Honolulu, HI 96822
12:00pm

Microbiology 690 Seminar

Mānoa Campus, Post 126
1:30pm

German Club - Kaffeeklatsch + Kartoffelsalat

Mānoa Campus, Moore Hall 107
1:30pm

Biology Chair Seminar: Dr. Mark Rausher

Mānoa Campus, Biomed T208
2:30pm

Zoology Final Oral

Mānoa Campus, MSB, Rm. 114
5:30pm

Tim Miller in Sex! Body! Self!

Mānoa Campus, Kennedy Theatre
7:30pm

2013 IPRC Public Lecture in Climate Science

Mānoa Campus, Art Building Auditorium