Book Wings: Short Plays from the US and China
March 12, 4:00pm - 6:00pm
Mānoa Campus, Moore Hall 258
---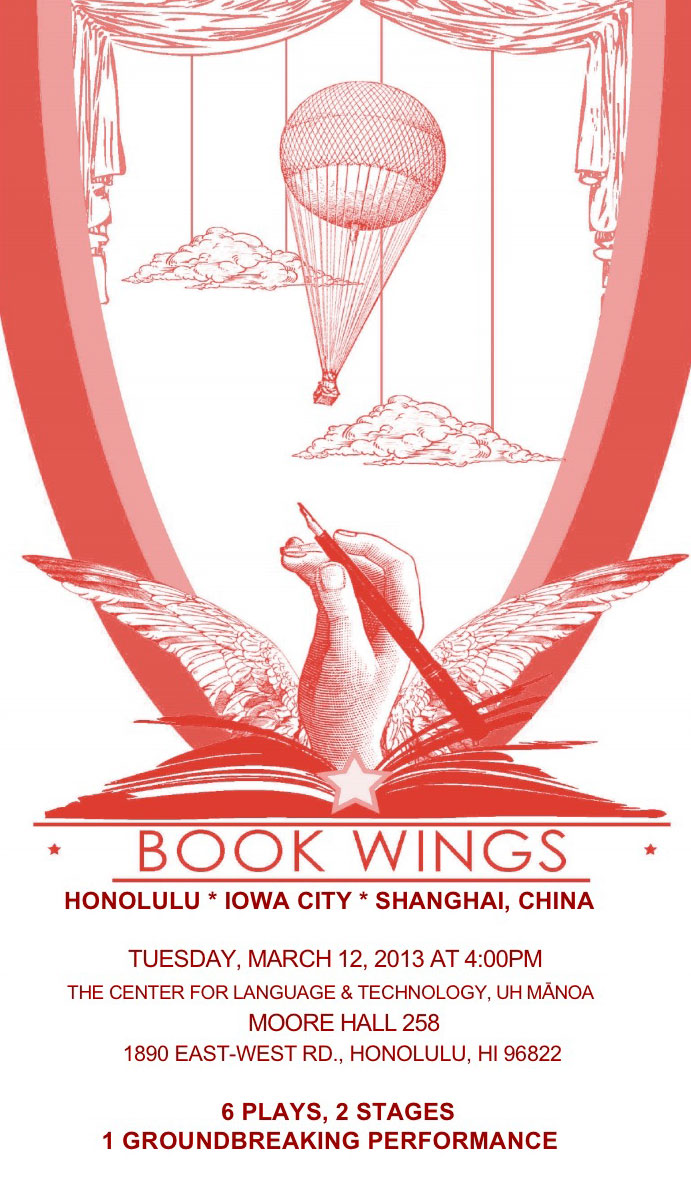 Book Wings is a literary exchange and performance project bringing together American and Chinese writers, actors, directors, and new media professionals in a virtual environment to foster a cross-cultural conversation, spark new literary and dramatic ideas, and create an enduring body of work.
Book Wings China features young American and Chinese playwrights addressing the central theme of Migration.
Six 8-10 minute commissioned plays will be staged in Iowa City and Shanghai simultaneously with 7,000 miles between the performance sites. Using high definition videoconferencing technologies, the stages will be digitally connected, allowing viewers around the globe to the performance via a live stream and comment and ask questions in real time via the embedded Twitter feed.
Ticket Information
Free and open to the public
Event Sponsor
Center for Language and Technology, Mānoa Campus
More Information
Stephen L Tschudi, 956-2533, sfleming@hawaii.edu, http://llc.manoa.hawaii.edu
---
Tuesday, March 12

11:00am

SLS Final Oral

Mānoa Campus, Moore 551
12:00pm

Teaching and Obtaining the Oral Communications Focus Designation

Mānoa Campus, Kuykendall 106
12:00pm

Linguistics Seminar

Mānoa Campus, St. John Auditiorium (St. John, Room 011)
12:00pm

New Perspectives on Oral Communication Assignments

Mānoa Campus, 106 KUY
1:00pm

Informational Meeting for Study Abroad in India

Mānoa Campus, Sakamaki A201
4:00pm

Book Wings: Short Plays from the US and China

Mānoa Campus, Moore Hall 258
4:30pm

Growing Conscious 1.0

Mānoa Campus, The Free Garden (Behind the Art Building)
6:00pm

Public Lecture by Theda Skocpol

Mānoa Campus, Art Auditorium, 2535 McCarthy Mall
6:30pm

Comet PANSTARRS Viewing and Stargazing

Magic Island Picnic Area 36
7:30pm

Judith Kellock, soprano

Mānoa Campus, Orvis Auditorium
7:30pm

Hawaii Space Lecture Series

Mānoa Campus, POST 544