Hawaiian Music and Musicians, Revised and Updated
March 14, 12:00pm - 1:15pm
Mānoa Campus, Kuykendall 410
---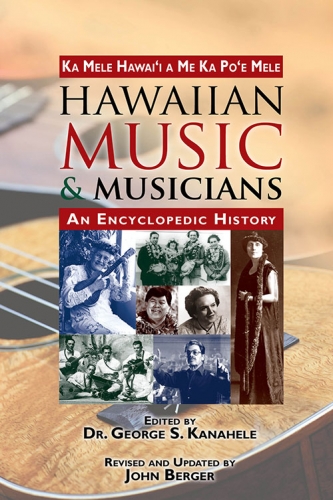 George S. Kanahele published his monumental Hawaiian Music and Musicians: An Illustrated History in 1979. Compiled with the assistance of a hundred contributors and the research of many more, it was immediately recognized as the most ambitious book ever written about Hawaiian music.

The book is arranged alphabetically, with entries on Hawaiian music from its roots in ancient chants to the flowering of the musical renaissance in Hawai'i. It describes leading personalities and groups, organizations, songs and publications, and discusses the extraordinary popularity of Hawaiian music round the world. There are biographies of musicians from every period of Hawaiian musical history—from Henry Berger, David Kālakaua, Queen Lili'uokalani, and others of their time, to the great names of the 20th century.

In 2000 Dr. Kanahele asked veteran music critic John Berger to work with him on a second edition; Dr. Kanahele passed away a few months later. It took John Berger another dozen years to complete this Revised and Updated Hawaiian Music and Musicians: An Encyclopedic History (Mutual Publishing, 2012). The book is now more than doubled in length, with almost every entry revised and updated, and with almost 100 new entries. In this talk, John Berger will be discussing the process of revising and editing this immense musical history.

Speaker Bio:

John Berger has covered entertainment in Honolulu for 40 years. He has been writing about music, theatre and social events of all kinds for the Honolulu Star-Advertiser (formerly the Honolulu Star-Bulletin) since 1988.
Event Sponsor
Center for Biographical Research , Mānoa Campus
More Information
956-3774, biograph@hawaii.edu, http://www.facebook.com/CBRHawaii
---
Thursday, March 14

12:00pm

Public Health Colloquium for March 2013

Mānoa Campus, Biomed D-207, 1960 East West Road
12:00pm

Hawaiian Music and Musicians, Revised and Updated

Mānoa Campus, Kuykendall 410
2:00pm

Molecular Biosciences & Bioengineering Final Oral

Mānoa Campus, AgSci Bld 219
3:00pm

Conversational Organization & Embodied Interaction in a Wolof Village

Mānoa Campus, Crawford Hall 115
4:00pm

JD Info Session for UHM Honors Students

Mānoa Campus, Gregg M. Sinclair Library, Learning Arena 2
5:00pm

Waves of Change: Climate Change Tok Stori FIlm presentation

Mānoa Campus, Crawford 105
5:30pm

Multiple Mini-Interviews - the New Format!

Mānoa Campus, UHM QLC 412
6:30pm

Relay for Life Team Captain Meeting

Mānoa Campus, Campus Center Executive Dining Room
7:30pm

Masahide Kurita, flute

Mānoa Campus, Orvis Auditorium