Tim Miller directs Body Maps
March 15, 5:30pm - 6:30pm
Mānoa Campus, Earle Ernst Lab Theatre
---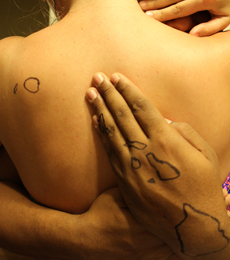 UH students collaborate with Tim Miller to create "Body Maps", a new ensemble work about identity and memory.
Doors open at 5 p.m., seating is first-come, first-served.
In Body Maps, a group of UH theatre and dance students will present an original piece directed by internationally-acclaimed solo performer Tim Miller. Known for his charged performance work that takes up the most challenging social texts of our time, Miller believes that performance can be used to embolden communities and connect people with one another. He states, "My goal is to share a variety of strategies to create original performances from the tremendous energies and stories that are present in our lives."
Miller will be in residence at UHM March 11-15, 2013 and will work with UH Theatre and Dance students to create this original ensemble piece.
Miller calls the Body Maps process an "exciting and charged exploration into creating original performance work from our lives, dreams, obsessions, memories and desires." Using the students' own memories and myths as a jumping off point, the piece will use a deep sense of personal history to create performance.
The performance is sponsored by T.A.D.A. (Theatre and Dance Association), with funding from the Student Activity and Program Fee Board and the Diversity and Equity Initiative. The workshop co-sponsored by the UHM Department of Theatre and Dance and the Department of Women's Studies and LGBTI Student Services.
BIO:
Hailed for his humor and passion, Tim Miller's solo performances have been presented all over the world. He is the author of the books SHIRTS & SKIN, BODY BLOWS and 1001 BEDS. His theater works have been published in the play collections O Solo Homo: The New Queer Performance (1998) and Sharing the Delirium – Second Generation AIDS Plays and Performances (1993).
Miller has taught performance in the theater departments at UCLA, Cal State LA and NYU. He is a founder of Performance Space 122 in NYC and Highways Performance Space in Santa Monica, CA. Miller can be reached at his website: www.TimMillerPerformer.com
Ticket Information
Free
Event Sponsor
Theatre and Dance, Mānoa Campus
More Information
Lurana O'Malley, 956-9609, omalley@hawaii.edu
---
Friday, March 15

7:00am

2013 Match Day

Mānoa Campus, 651 Ilalo Street Medical Education Building
9:00am

Theatre Final Oral

Mānoa Campus, Burns Hall Rm 4012
10:00am

Korean Culture Day

Mānoa Campus, Center for Korean Studies
12:00pm

American Studies Final Oral

Mānoa Campus, Moore 323
12:00pm

Southeast Asia Speaker Series: Gregory F. Moore

Mānoa Campus, Moore Hall 319 (Tokioka Room)
1:00pm

Education Final Oral

Mānoa Campus, Wist 115
1:30pm

Assessing Student Learning Outcomes with Theses and Dissertations Workshop

Mānoa Campus, Kuykendall 106
2:30pm

Get Googly for Google Sites!

Mānoa Campus, Webster 101
2:45pm

Meteorology Master's Defense

Mānoa Campus, Department of Meteorology, HIG Bldg, MET Conference Room, HIG 353
3:00pm

German Club - Stammtisch

Mānoa Campus, Manoa Gardens
3:00pm

Communication and Information Sciences Final Oral

Mānoa Campus, Post 302
4:30pm

Education for Disaster and Recovery: The Case of Greater Sendai

Mānoa Campus, Tokioka Room (Moore Hall 319)
5:00pm

72-hour Film Challenge 2013

Mānoa Campus, Hemenway Courtyard
5:30pm

International Night 2013 : Snapshots of the World

Mānoa Campus, Campus Center Ballroom (3rd floor), 2465 Campus Road, Honolulu, HI 96822
5:30pm

Tim Miller directs Body Maps

Mānoa Campus, Earle Ernst Lab Theatre
7:00pm

The Vagina Monologues at UH Manoa 2013

Mānoa Campus, Art Auditorium 132, Art Building
7:30pm

Lai Yi-Chieh, guzheng

Mānoa Campus, Orvis Auditorium