Owarinaki Michi Ka Huaka'i Palena 'Ole--MFA thesis exhibition by Shiori Abe
April 1, 2013 - April 12, 2013
Mānoa Campus, Architecture Bldg, Haigo and Irene Shen Architecture Gallery
---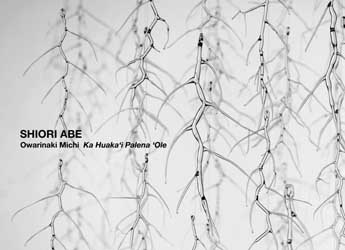 Shiori Abe presents the past, the present, and the future of her journey through life in her graduate thesis exhibition entitled "Owarinaki Michi Ka Huakaʻi Palena ʻOle" ("The Never-ending Journey" in both Japanese and Hawaiian). Follow the carefully aligned path through time as she learns and practices hula while rediscovering her own Japanese ancestry. See the connection between the two cultures that both revere and respect the bond between nature and humanity: one through the spirit of Shintoism and the other through the spirit of mana.
The opening ceremony will occur April 1st, 2013 from 4:00 to 4:20 p.m.; the reception will follow until 7:00 p.m.
Ticket Information
Gallery hours: April 1, 4:00-7:00 p.m.; April 2 - 12, Monday-Thursday 10:00 a.m. - 5:00 p.m., Friday 10:00 a.m. - 7:00 p.m. Admission is free. Parking fees may apply.
Event Sponsor
Art and Art History, Mānoa Campus
More Information
Shiori Abe, Shiori Abe, shiori2@hawaii.edu
---