UHM Preservation Week
April 24, 12:00pm - 2:00pm
Mānoa Campus, Hamilton Library Lobby
---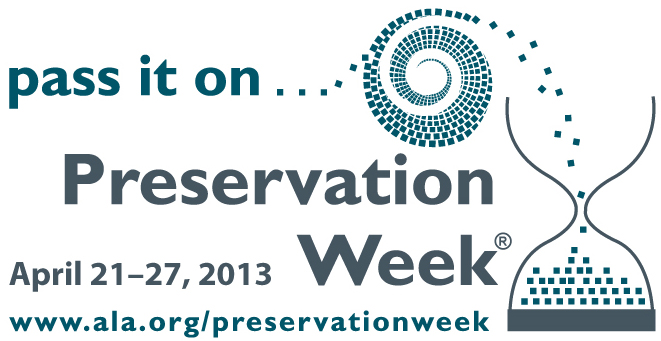 As spring cleaning is underway, many in the university community will contemplate how to preserve important archival and library materials.
Joining hundreds of libraries, archives and museums across the country, Hamilton Library will provide information and expertise to patrons on how to preserve books, scrapbooks, photos, family records and much more.
Preservation Week activities in Hawaiʻi have been spearheaded by graduate students in the Library and Information Science Program at the University of Hawaiʻi at Mānoa. The theme of Preservation Week @ Hamilton Library is "Pass It On," and we will offer a series of special programs Tuesday, April 23 through Saturday, April 27 from 12:00-2:00 pm, in the first floor lobby. Activities include:
Paper and Book Clinic ~
Staff, faculty, students and community patrons are invited to bring a treasure to Hamilton Library for assessment by the staff of the Preservation Department, assisted by conservation students. Although no monetary appraisals will be given, patrons can learn how to handle and house materials of personal and professional value.
Video Clips by Dog Bite Productions ~
Demonstrating the proper methods of handling circulating books.
Multi-lingual Preservation Posters ~
Explaining the responsibility we all have in respectfully caring for the library collections we are privileged to borrow, in ʻŌlelo Hawaiʻi, Tagalog, Japanese, Samoan, Tongan, Korean and English.
Preservation Week @ Hamilton Library is a collaborative effort supported by the American Library Association, Library of Congress, the Institute of Museum and Library Services, University of Hawaiʻi at Mānoa Library, and the UH Library and Information Science Program.
Ticket Information
Free and open to the public
Event Sponsor
UHM Library Services, Preservation Department, Mānoa Campus
More Information
Debbie Dunn, 956-2471, ddunn@hawaii.edu
---
Wednesday, April 24

8:00am

English Final Oral

Mānoa Campus, Henke 325
10:00am

Public Presentation

Mānoa Campus, Halau o Haumea, KamakakÅ«okalani Center for Hawaiian Studies
10:45am

Administrative Professionals Day Gourmet Luncheon

Mānoa Campus, Campus Center Ballroom
12:00pm

Chinese Studies Public Lectures

Mānoa Campus, Moore Hall 319 (Tokioka Room)
12:00pm

Fulbright Workshop for UHM Students

Mānoa Campus, Kuykendall 106
12:00pm

UHM Preservation Week

Mānoa Campus, Hamilton Library Lobby
1:30pm

Résumé & Cover Letter 101

Mānoa Campus, QLCSS 208
2:30pm

Organizing at the Speed of Love

Mānoa Campus, UH Law School, Moot Courtroom. 2515 Dole Street.
5:00pm

Manoa Pre-Law Association General Meeting

Mānoa Campus, Law Library Lobby
5:00pm

Lei Making

Mānoa Campus, Campus Center Ballroom, 3rd Floor
5:00pm

Wii at Spotlight

Mānoa Campus, Bale
6:00pm

SUPER-M's Monte Carlo Night

Mānoa Campus, Campus Center Ballroom
7:30pm

UH Piano Project Concert

Mānoa Campus, Orvis Auditorium
8:00pm

Spring Footholds

Mānoa Campus, Prime Time in the Earle Ernst Lab Theatre