Blurred Lines: PTSD and Life After Military Service
September 26, 2:00pm - 3:30pm
Mānoa Campus, Queen Lili'uokalani Center for Student Services 208
---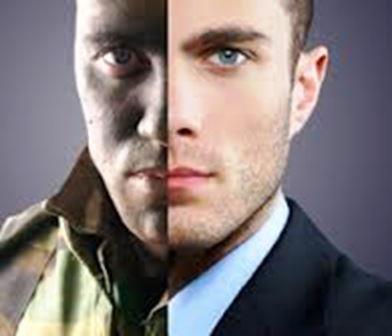 Statistics indicate that about one in three Iraq/Afghanistan combat veterans suffer from PTSD (post traumatic stress disorder), TBI (traumatic brain injury), or both. The Office of Veterans Support Services is pleased to welcome Dr. Steve Watkins and Maj. Christopher Slavens for a discussion about PTSD in combat veterans.
Watkins followed the family of retired marine Jason Haag who suffers from PTSD and TBI after three tours of duty in Iraq & Afghanistan. He wrote a series of articles that also covered what has come to be called "secondary PTSD;" giving voice to family members and other loved ones who are also impacted.
Maj.Christopher Slavens of the Hawaii National Guard's 29th Brigade, is a graduate of Castle High School and UH Manoa. While in Iraq, he received the Bronze Star Medal, one of the military's highest wartime honors, for designing a way to apply armor to Humvees, providing further protection from roadside bombs. He will be discussing his experiences with chronic PTSD.
Slavens is a transition patient advocate at the Honolulu VA. Watkins is working on a novel.
Ticket Information
Free to all; bring a friend!
Event Sponsor
Office of Student Affairs, Mānoa Campus
More Information
April Brown-Kimbrell, 956-3290, browna6@hawaiil.edu
---
Thursday, September 26

10:00am

Ho'okele Na'auao: a Hawaiian Librarianship Symposium

Mānoa Campus, Halau o Haumea, Kamakakuokalani Center for Hawaiian Studies, 2645 Dole Street, Honolulu
10:00am

Education Final Oral

Mānoa Campus, Wist 234
12:00pm

Nursing Final Oral

Mānoa Campus, W205
12:00pm

Best Practices in Serving Veterans & Service-members

Mānoa Campus, Kuykendall 106
12:00pm

Queer Pacific Indigeneity: Constructing Our Archives

Mānoa Campus, Henke Hall 325
12:00pm

iBooks Author for Education: 3-Part Series

Mānoa Campus, Webster 101
12:00pm

Undergraduate Research Info Session

Mānoa Campus, Sinclair 108
12:30pm

Study Abroad in Paris, France Info Meeting

Mānoa Campus, Moore 319
1:30pm

Study Abroad in Adelaide, Australia Info Meeting

Mānoa Campus, Moore 319
2:00pm

Blurred Lines: PTSD and Life After Military Service

Mānoa Campus, Queen Lili'uokalani Center for Student Services 208
3:00pm

Oceanography Seminar

Mānoa Campus, Marine Sciences Building 100
3:00pm

Experimental Religion, John Nelson USF

Mānoa Campus, Crawford 115
3:30pm

Botany Final Oral

Mānoa Campus, BioMed B103
4:00pm

John Sayles Film Series

Mānoa Campus, Art Auditorium
5:30pm

Practice for Your Interview!

Mānoa Campus, QLC 412
7:00pm

Literary Night

Mānoa Campus, Center for Korean Studies