Spring / Fall
September 30, 2013 - October 11, 2013
Mānoa Campus, Art Building, Commons Gallery
---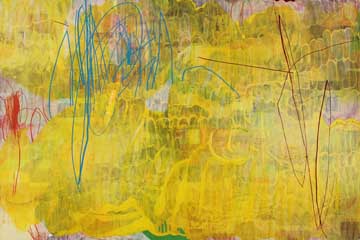 Kalani Largusa, from Kapahi, Kaua'i, was recently accepted into the graduate program at the Department of Art and Art History, University of Hawai'i at Mānoa. He was educated in drawing and painting at the California College of Arts in Oakland and San Francisco and received his BFA from the School of the Art Institute of Chicago last spring. His work centers on an exploration of painting processes, contemporary Pacific Islander and Asian identity, and Polynesian tattoo symbolism and methodology. Through layers and almost western comic book iconography, his work reveals a record of cultural themes and experiences. It ranges from sharp, stylized draftsmanship and mixed-media art journals to large abstract, often non-representational oil paintings.
Reception: Friday, October 4, 12:00–4:00 p.m.
Image: "Stacks1," 48" x 72", courtesy of Kalani Largusa
Ticket Information
Admission is free. Parking fees may apply.
Event Sponsor
Art and Art History, Mānoa Campus
More Information
Sharon Tasaka, 956-6888, gallery@hawaii.edu, http://www.hawaii.edu/art/exhibitions/commons_gallery/
---
Monday, September 30

8:00am

Political Science Final Oral

Mānoa Campus, Saunders 617
10:00am

UH Manoa Briefing on New IPCC Climate Report

Mānoa Campus, Daniel K. Inouye Center for Microbial Oceanography(C-MORE Hale) Conference Room
12:30pm

Study Abroad in Copenhagen, Denmark Info Meeting

Mānoa Campus, Moore 319
12:30pm

Study Abroad in Paris, France Info Meeting

Mānoa Campus, Moore 319
5:30pm

Climate Change and Coral Reefs Talk Story

Mānoa Campus, Waikiki Aquarium, 2777 Kalakaua Avenue
5:30pm

Mauna Loa Sea to Summit Expedition Symposium

Mānoa Campus, St John Plant Science Bldg #011