Visiting Artist in Glass John de Wit
October 8, 8:30am - 3:30pm
Mānoa Campus, Art Building, Room 117
---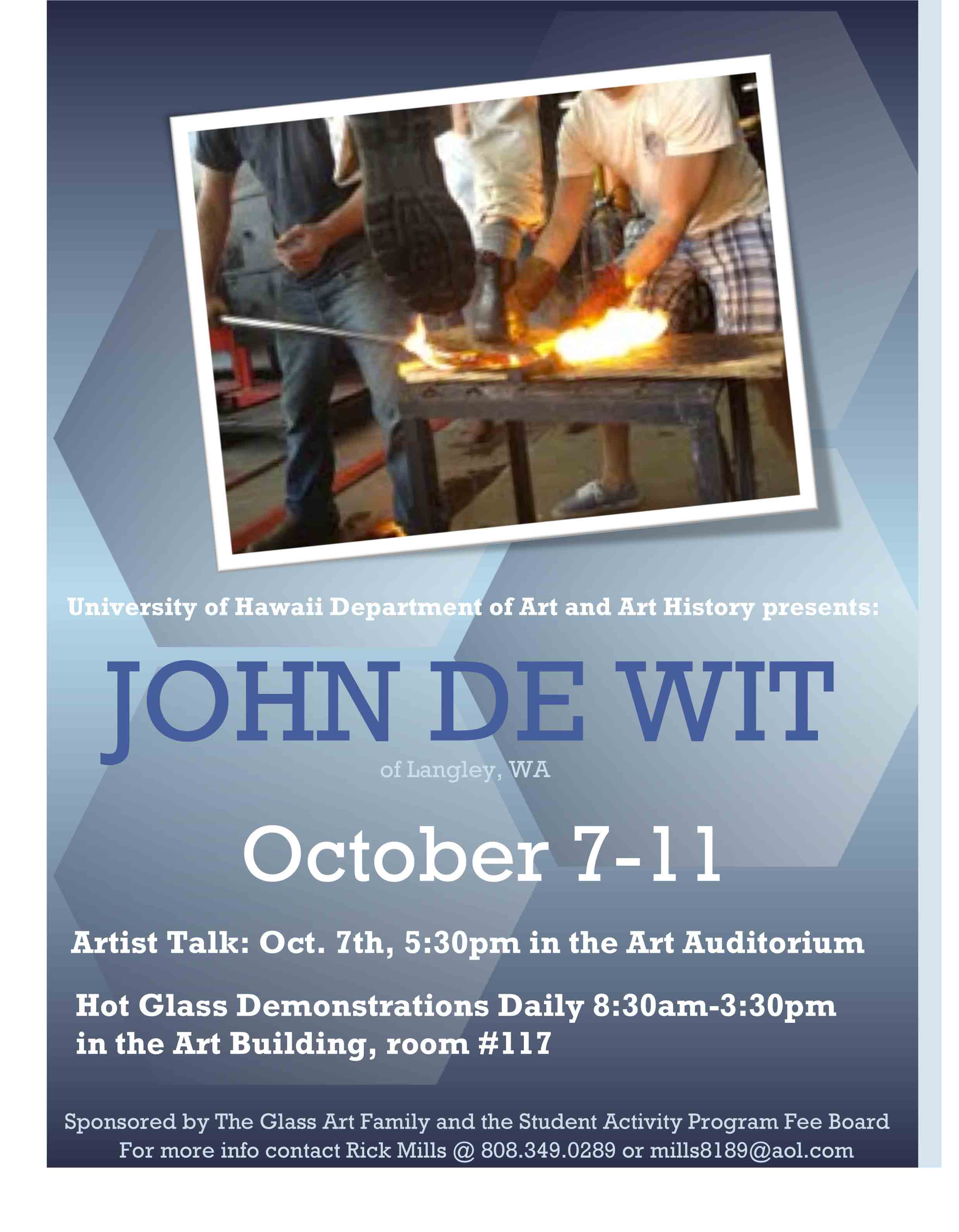 The Visiting Artist Program in Glass Presents John de Wit, internationally recognized glass artist from Langley, WA.

Mr. de Wit will be in residence October 7-11.

Artist Talk: October 7 at 5:30 p.m. in the Art Auditorium.

Hot Glass Demonstrations: Daily 8:30-3:30 p.m. in Room 117.

Contact Rick Mills for more info: rmills8189@aol.com

Co-sponsored by the Glass Art Family and thank you to the SAPFB

ALL ARE WELCOME, EVENT IS FREE!
Event Sponsor
Art and Art History, Mānoa Campus
More Information
Rick Mills, 808-349-0289, rmills8189@aol.com
---
Tuesday, October 8

8:30am

Mobile Veterans Center on Campus

Mānoa Campus, Legacy Path between Andrews Outdoor Theatre and Krauss Hall
8:30am

Visiting Artist in Glass John de Wit

Mānoa Campus, Art Building, Room 117
8:30am

STREAM: learning fun for children

Mānoa Campus, Lyon Arboretum, 3860 Manoa Rd.
12:00pm

Mock Law School Admissions Panel - Who Gets In?

Mānoa Campus, Friedman Room, Saunders Hall 624
12:00pm

Linguistics Seminar

Mānoa Campus, St. John Auditiorium (St. John, Room 011)
1:30pm

Anthony Chantavy, piano

Mānoa Campus, Orvis Auditorium
3:00pm

Sociology Final Oral

Mānoa Campus, Saunders 244
3:30pm

The Hut in the Forest: Asceticism and Architecture

Mānoa Campus, Hamilton Library Room 301
3:30pm

Archaeology Lecture

Mānoa Campus, Crawford Hall 115
7:00pm

"The Glitch in Convergence" by Mark Amerika

Mānoa Campus, Art Building, Auditorium