Money $mart Credit Workshop
October 17, 4:30pm - 6:00pm
Mānoa Campus, Campus Center 307
---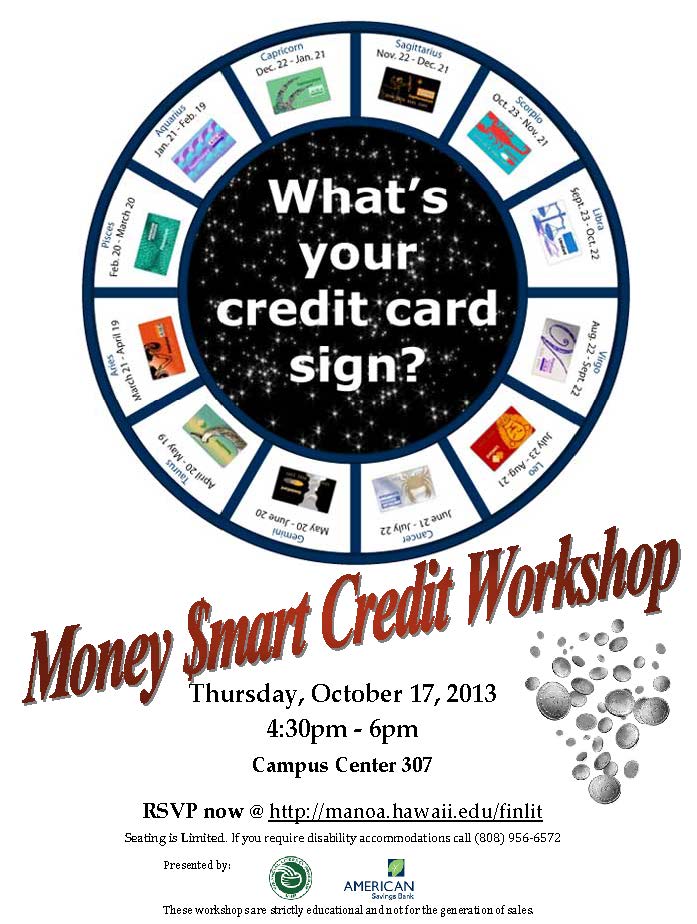 American Savings Bank in partnership with the University of Hawaii at Manoa (UHM) Financial Literacy Program will be holding a free workshop titled, "Money $mart Credit Workshop." The workshop is designed to help participants learn the basics of credit, healthy credit card management and building or re-establishing credit.
The interactive workshop will feature a Q&A session where participants can have their personal questions and concerns addressed by the bankers.
As an added bonus find out your zodiac sign's preferences towards the type and way they deal with credit and credit cards. A purely unscientific but fun way to explore your own money management habits.
These workshops are strictly educational and are not for the generation of sales.
Thursday, October 17, 2013
4:30 p.m. – 6:00 p.m.
Campus Center 307
Please contact the UHM Financial Literacy Program for any questions at finlit@hawaii.edu. Seating is limited, register here
Event Sponsor
UH Manoa Financial Literacy Program, Mānoa Campus
More Information
Stacy Miyashiro, 956-6572, stacyasm@hawaii.edu, http://manoa.hawaii.edu/finlit
---
Thursday, October 17

9:00am

Linguistics Final Oral

Mānoa Campus, Moore Hall 575
3:00pm

Oceanography Seminar

Mānoa Campus, MSB 100
3:00pm

WRRC Seminar

Mānoa Campus, POST 126
3:00pm

The Ancient Hawaiian State: Telling a Book by its Cover

Mānoa Campus, Crawford 115
3:30pm

Pacific Biosciences Research Center Public Presentation

Mānoa Campus, C-MORE Hale, Moore Conference Center
4:00pm

John Sayles Film Series

Mānoa Campus, Art Auditorium
4:30pm

Money $mart Credit Workshop

Mānoa Campus, Campus Center 307
6:30pm

"The Historical and Contemporary Question of Genocide Prevention"

Mānoa Campus, Wm Richardson Law School, Classroom 2