Monsters in the Dark: Supermassive Black Holes and Their Destructive Habits
October 29, 7:30pm - 9:00pm
Mānoa Campus, Art Building Auditorium (room 132)
---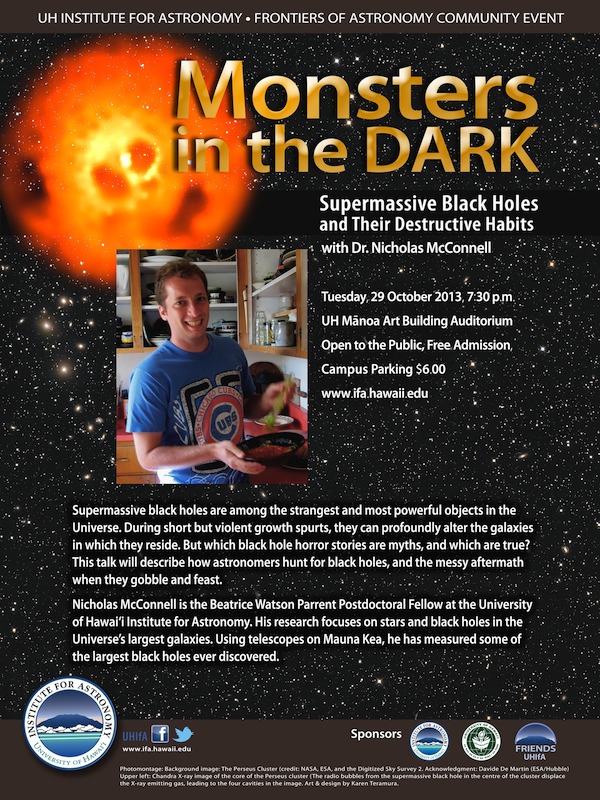 Supermassive black holes are among the strangest and most powerful objects in the Universe. During short but violent growth spurts, they can profoundly alter the galaxies in which they reside. But which black hole horror stories are myths, and which are true? This talk will describe how astronomers hunt for black holes, and the messy aftermath when they gobble and feast.
Nicholas McConnell is the Beatrice Watson Parrent Postdoctoral Fellow at the University of Hawai'i Institute for Astronomy. His research focuses on stars and black holes in the Universe's largest galaxies. Using telescopes on Mauna Kea, he has measured some of the largest black holes ever discovered.
Ticket Information
Free, no tickets required. Campus parking $6.
Event Sponsor
Institute for Astronomy, Mānoa Campus
More Information
808-956-8566, ifaevents@ifa.hawaii.edu, http://www.ifa.hawaii.edu/specialevents/
---