origin / destination
October 30, 2013 - November 8, 2013
Mānoa Campus, Art Building, Commons Gallery
---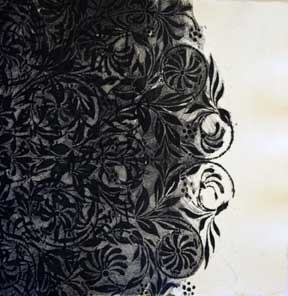 "origin / destination" is a collection of original prints produced and printed by art students and faculty at Brigham Young University and University of Hawai'i at Mānoa. These prints address the concepts of physical space and cultural, psychological, and environmental proximity.
With the support of a Laycock Grant for Collaboration, the student participants from BYU traveled to Hawai'i to meet and work with their counterparts in Honolulu.
Artists: Charles Cohan, Brady Evans, Amanda Fujii, Miles Gregory, Kelsey Hughes, Kamakani Konia, Kristen Kerch, Blake Murakami, Zach Orpurt, Jeremy Pang, David Randall, Carlie Salomons, Elizabeth Shiner, Kyle Singson, Geraldine Villanueva, Rex Vlcek, Marika Wilson, Dustin Yamashita, Gary Barton, Matt Bass, Nick Bontorno, Fidalis Buehler, Steve Carter, Maddison Covin, Daniel Everett, Peter Everett, Lisa Ferguson, Maura German, Alexandra Jameson, Wayne Kimball, Jessica Li, Ron Linn, Joseph Ostraff, Sunny Taylor
Photo: detail of "untitled" by Peter Everett, courtesy University of Hawai'i Art Gallery
Ticket Information
Admission is free. Gallery hours: Monday - Friday 10:00 - 4:00. Sunday 12:00 - 4:00.
Event Sponsor
Art and Art History, Mānoa Campus
More Information
Sharon Tasaka, 956-6888, gallery@hawaii.edu
---
Wednesday, October 30

9:30am

Hands on Workshop: Searching in the HDNP

Mānoa Campus, Hamilton Library Rm 156
12:00pm

Chinese Studies Seminar

Mānoa Campus, Tokioka Room (Moore Hall 417)
12:00pm

"Love in 2046: Feminist Heterotopia in Wong Kar Wai's 'Love in the '60's' ..."

Mānoa Campus, Burns Hall 2118, East-West Center
1:30pm

Managing Stress: Tips & Resources

Mānoa Campus, Kuykendall 106
1:30pm

German Film Series - Fall 2013

Mānoa Campus, Moore Hall 258
3:00pm

Japanese Immigrant Gender Relations in Hawai'i's Canefields

Mānoa Campus, Crawford 115
3:30pm

Heritage Language Education: What Can Scotland Learn from Hawai'i?

Mānoa Campus, Hamilton Library Room 301
3:30pm

Meteorology Seminar

Mānoa Campus, Marine Sciences Building, MSB 100
5:00pm

ISA Halloween Party

Mānoa Campus, Campus Center Ballroom
6:00pm

ASUH Executive Committee Meeting

Mānoa Campus, Campus Center 310
6:00pm

Presentation: Māori Artist Rangi Kipa

Mānoa Campus, Hālau o Haumea, KamakakÅ«okalani Center for Hawaiian Studies, 2645 Dole Street
6:30pm

Halloween Horror Film from Thailand

Mānoa Campus, Center for Korean Studies 1881 East-West Road
6:30pm

Halloween Horror Film from Thailand

Mānoa Campus, Center for Korean Studies Building 1881 East-West Road