Waikiki Parc Features Ashley Huang
November 5, 2013 - February 28, 2014
Parc Promenade Gallery, Waikiki Parc Hotel, 2233 Helemoa Road, Waikiki
---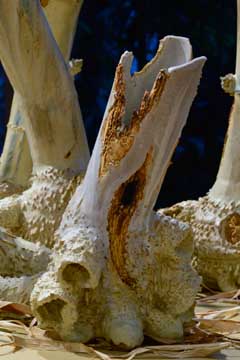 Ashley Huang presents her recent works in "Bamboo Forest." Huang's ceramic sculptures are highlighted in a new gallery as part of an expanded arts partnership of the University of Hawai'i at Mānoa, the Halekulani and its sister hotel, the Waikiki Parc.
Huang is the second of the up-and-coming young artists from UHM to be featured in a solo exhibition at the Parc Promenade Gallery at the Waikiki Parc Hotel.
"Each ceramic bamboo culm represents my relationships with significant people who have influenced me throughout my life," she states. Huang's work reflects her personal narratives, experiences, and insights she gained on her own journey of self-discovery. Huang anticipates receiving a BFA degree from the Department of Art and Art History at the University of Hawai'i at Mānoa (UHM), in December, 2013.
Reception: Thursday, November 21, 6:00 - 8:00 p.m., Parc Promenade Gallery
Image: detail of "Bamboo Forest" by Ashley Huang, courtesy of the artist.
Ticket Information
Hours: Operational hours of the hotel. Admission is free. Parking fees may apply.
Event Sponsor
Art and Art History, Mānoa Campus
More Information
Sharon Tasaka, 956-6888, gallery@hawaii.edu
---
Tuesday, November 5

11:00am

National Non-Traditional Student Week

Mānoa Campus, Campus Center- Across from Starbucks
12:00pm

Linguistics Seminar

Mānoa Campus, St. John Auditiorium (St. John, Room 011)
1:00pm

Nursing Final Oral

Mānoa Campus, Webster 423
1:00pm

FBI Information Session

Mānoa Campus, Campus Center, Room 308
2:30pm

Ocean and Resources Engineering Final Oral

Mānoa Campus, Holmes Hall, Rm. 400
3:30pm

Archaeomagnetism in Greece

Mānoa Campus, Crawford Hall 115
4:00pm

Cookies with Law School Admissions Director & Current Law Students

Mānoa Campus, William S. Richardson School of Law Library
4:30pm

International Language Exchange

Mānoa Campus, Krauss Hall 012
4:30pm

International Language Exchange

Mānoa Campus, Krauss Hall 012
4:30pm

The Voices of Heaven: Love, War, and Korea Today

Mānoa Campus, Center for Korean Studies
5:00pm

Public Presentation

Mānoa Campus, Kama 201
5:00pm

MPLA General Meeting

Mānoa Campus, Law Library
6:30pm

Film: Over the Border

Mānoa Campus, Center for Korean Studies