John Sayles Film Series
December 5, 4:00pm - 6:30pm
Mānoa Campus, Art Auditorium
---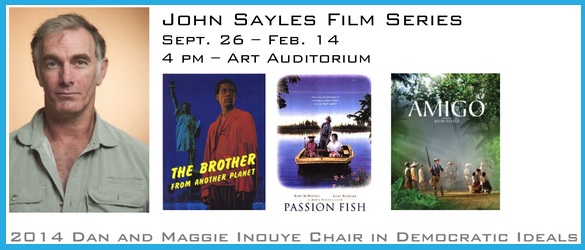 John Sayles, who influenced a generation of independent film as the "Godfather of Bootstrap Cinema," will be the 2014 Inouye Chair in Democratic Ideals. Preceding in residency in February, the American Studies Department is presenting a series of his films, co-sponsored by the College of Arts & Humanities and the Academy for Creative Media.


Sept. 26, Brother From Another Planet
Oct. 17, Matewan (This screening will be in the Architecture Auditorium)
Nov. 7, Eight Men Out
Nov. 21, The Secret of Roan Inish
Dec. 5, Passion Fish
Jan. 16, Lone Star
Jan. 30, Casa de los Babys
Feb. 13, Amigo, featuring a Q & A with the filmmaker
Screenings will take place in the Art Auditorium, except for Matewan (Oct. 17), which will be in the Architecture Auditorium.
Event Sponsor
American Studies Department, College of Arts & Humanities, The Academy for Creative Media, Mānoa Campus
More Information
808-956-8570
---
Thursday, December 5

8:00am

Psychology Final Oral

Mānoa Campus, Sakamaki C204B
9:00am

Sustainable UH Envisioning Workshop

Mānoa Campus, Saunders Hall 617
10:00am

Become a Teacher with the MEdT Program

Mānoa Campus, Campus Center
11:00am

2nd Annual Kamakakūokalani Kalikimaka Craft Fair

Mānoa Campus, Kamakakuokalani Center for Hawaiian Studies
11:45am

SOFT produce sale

Mānoa Campus, Sustainability Courtyard
12:00pm

Chinese Studies Seminar

Mānoa Campus, Tokioka Room (Moore Hall 417)
12:00pm

60-Minute Clinic: 3 Tips-in-One

Mānoa Campus, Webster 101
12:00pm

The Constitutional Evolution of Overseas US Territories: 1898-Present

Mānoa Campus, William S. Richardson School of Law, Moot Courtroom
12:00pm

Revealing Words: Biography of a Scribe

Mānoa Campus, Henke 325
1:30pm

Sophia Serafino, soprano

Mānoa Campus, Orvis Auditorium
2:00pm

Second Language Studies Final Oral

Mānoa Campus, Moore Hall, 155A
2:00pm

Persian Film Screening: Two Women, Directed by Tahmineh Milani, 1999

Mānoa Campus, Moore Hall, room 258
3:00pm

WRRC Seminar

Mānoa Campus, POST 126
3:00pm

Oceanography Seminar

Mānoa Campus, MSB 100
4:00pm

John Sayles Film Series

Mānoa Campus, Art Auditorium
4:00pm

50 Years of Gender Revolution: Where We Stand Now

Mānoa Campus, Architecture Auditorium (ARCH 205)
5:00pm

Chess Club at UH Manoa Meeting

Mānoa Campus, Campus Center room 309
7:30pm

Graduate & Undergraduate Composers' Symposium

Mānoa Campus, Orvis Auditorium