Miki Aoki, piano
February 11, 7:30pm - 9:00pm
Mānoa Campus, Orvis Auditorium
---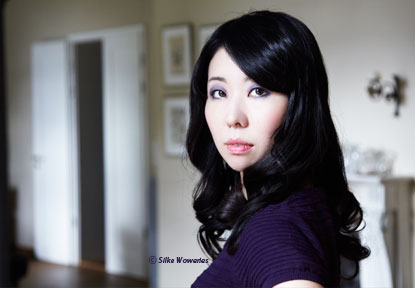 Pianist Miki Aoki makes her Hawai'i debut at the University of Hawai'i at Mānoa!
Appearing at the London Royal Festival Hall at the age of 12, Ms. Aoki has since continued to perform on international stages since this debut. Recognized for her diverse abilities as a pianist and as a collaborative artist, Ms. Aoki combines her career performing solo recitals and chamber music with working along side young violinists. Ms Aoki is currently appointed as senior lecturer at Graz University for Music and the Performing Arts, in Austria
Ms. Aoki's recital will include works by Scarlatti, Rimsky-Korsakov, Glazunov, Liadov, Blumenfeld, Chopin, and Debussy.
For more information about Miki Aoki and the complete recital program, visit the Music at Manoa Events Calendar.
Ticket Information
$12 general admission, $8 students, seniors (65+), UH faculty/staff (ID required), $5 UHM Music Majors (at the door)
Event Sponsor
Music Department, Mānoa Campus
More Information
956-8742, http://www.hawaii.edu/uhmmusic
---
Tuesday, February 11

10:30am

Undergraduate Research Funding Info Session

Mānoa Campus, Sinclair Library
10:30am

Electrical Engineering Final Oral

Mānoa Campus, Holmes Hall 389
12:00pm

Linguistics Seminar

Mānoa Campus, St. John Auditorium, Room 011
3:00pm

The Legacies of a Hawaiian Generation colloquium

Mānoa Campus, George Hall 301B
4:30pm

NICE International Language Exchange

Mānoa Campus, Krauss Hall 012
4:30pm

The Elusive Concept of "Capacity Building" in International Development

Mānoa Campus, BusAd G103
5:00pm

JD Info Session for UHM Honors Students, Regents and Presidential Scholars

Mānoa Campus, Sinclair Library, Room 110
5:00pm

Education Final Oral

Mānoa Campus, Kamakakuokalania 201
6:30pm

Physical and Occupational Therapy

Mānoa Campus, Wist Hall, Andrew W.S. in the College Collaboration Center
7:30pm

Miki Aoki, piano

Mānoa Campus, Orvis Auditorium