Career Fair Spring 2014
March 4, 12:00pm - 3:00pm
Mānoa Campus, Campus Center Ballroom
---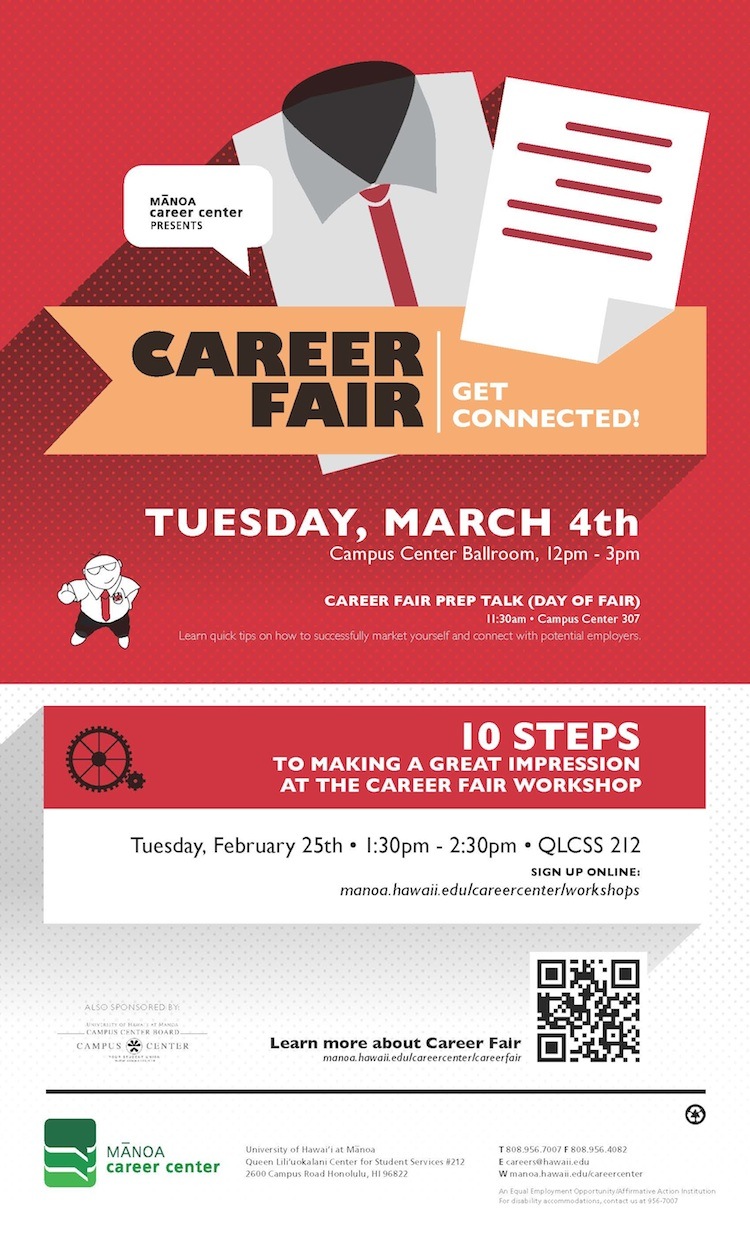 We welcome students and alumni of all majors to attend this event where employers will be informing students on what they'll need to know about career paths, employer expectations and professional opportunities. Students can network with employers, learn about Cooperative Education and Internship opportunities, gain information on career-life planning and more!
Want some last minute tips and pointers for the Career Fair? Join us right before Career Fair to learn some quick tips in connecting with employers!
"Prep Talk" for the Career Fair Learn quick tips on how to successfully market yourself and connect with potential employers.
Tuesday, March 4, 2014 Campus Center 307, 11:30 a.m. - 12:00 p.m.
Event Sponsor
Mānoa Career Center , Mānoa Campus
More Information
808-956-7007, careers@hawaii.edu, http://manoa.hawaii.edu/careercenter/
---
Tuesday, March 4

12:00pm

Career Fair Spring 2014

Mānoa Campus, Campus Center Ballroom
12:00pm

"Formula" for a Sure-Fire Abstract

Mānoa Campus, Kuykendall 106
12:00pm

Linguistics Seminar

Mānoa Campus, St. John Auditiorium (St. John, Room 011)
1:30pm

Oceanic Connections Forum: Redefining Indigenous Pacific Relations

Mānoa Campus, John Burns Hall 3121/3125, East-West Center
3:00pm

WRRC Seminar - Urine diverting toilets

Mānoa Campus, Marine Sciences Building, MSB 100
3:00pm

Meet the Monk Seals!

2777 Kalakaua Avenue
3:00pm

Citizenship and the Community of Value: Exclusion, Tolerance, Failure

Mānoa Campus, Webster 203
3:30pm

Meteorology Special Seminar

Mānoa Campus, Kuykendall Hall 101
4:00pm

Silent Voices: Wartime Views on the Future of Post-Liberation Korea

Mānoa Campus, Center for Korean Studies
4:30pm

NICE International Language Exchange

Mānoa Campus, Krauss Hall 012
5:00pm

Ultimate Frisbee Pick-up on Bachman Lawn

Mānoa Campus, Bachman Lawn
5:30pm

Pre-Law Week: How to Apply to Law School

Mānoa Campus, William S. Richardson School of Law, Classroom 3
6:30pm

Flipping the Classroom

Mānoa Campus, Wist Hall, Andrew W.S. in the College Collaboration Center