Waikiki Parc Features Tonia Moreno
March 6, 2014 - May 30, 2014
Parc Promenade Gallery, Waikiki Parc Hotel, 2233 Helemoa Road, Waikiki
---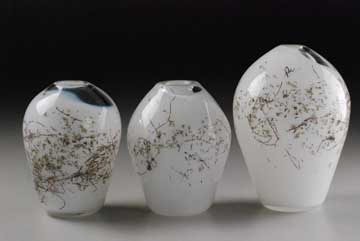 Tonia Moreno's glass sculptures "Aura's Whisper" and "Milk and Metal" are featured in a new exhibition as part of an expanded arts partnership of the University of Hawai'i at Mānoa (UHM), the Halekulani, and its sister hotel, the Waikiki Parc.
Moreno is the third of the up-and-coming young artists from UHM to be highlighted in a solo exhibition at the Parc Promenade Gallery at the Waikiki Parc Hotel.
"The transformative qualities of glass and the endless possibilities in color, texture, and form make working with glass unique and intriguing," said Moreno who earned a BFA degree with a focus in glass from UHM in 2013. She presented a solo exhibition at the Lyon Arboretum, 2012, and was included in "Hawaii's Modern Masters" at Luxury Row in 2013.
Reception: Thursday, March 6, 6:00 – 8:00 p.m., Parc Promenade Gallery
Image: detail of "Milk and Metal" by Tonia Moreno, courtesy of the artist.
Ticket Information
Hours: Operational hours of the hotel. Admission is free. Parking fees may apply.
Event Sponsor
Art and Art History, Mānoa Campus
More Information
Sharon Tasaka, 956-6888, gallery@hawaii.edu
---
Thursday, March 6

9:00am

The Humanities Initiative Open Forum Meeting

Mānoa Campus, Moore Hall 258
10:30am

Phil Taylor, Finalist for Director, Hawaii Institute of Marine Biology

Hawaii Institute of Marine Biology
12:00pm

"Hitler's Generals in America: Nazi POWs and Allied Military Intelligence"

Mānoa Campus, Henke 325
12:00pm

International Opportunities for Second Language Studies

Mānoa Campus, Sinclair Library, Heritage Reading Room
12:00pm

Council of Colleagues: A Discussion of the Impact of eCAFE, Rate My Professor

Mānoa Campus, Kuykendall 106
1:30pm

Amy Johnson, mezzo-soprano

Mānoa Campus, Orvis Auditorium
2:00pm

Persian Movie Screening: Leila, Directed by Dariush Mehrjui, 1998

Mānoa Campus, Moore 258
3:00pm

Gossip and Influence in Networks: Lessons from Rural India

Mānoa Campus, Business Administration (BUSAD) A-102
3:00pm

Anti-Colonial Resistance and Nationalism in Melanesia

Mānoa Campus, 3121/3125 John A Burns Hall
4:30pm

Maggots, Murder, and Men

Mānoa Campus, Biomedical Sciences (Biomed) 103
5:00pm

Chess Club at UH Manoa Spring Meeting

Mānoa Campus, Campus Center 310
5:00pm

Ultimate Frisbee Pick-up on Bachman Lawn

Mānoa Campus, Bachman Lawn
5:30pm

Pre-Law Week: Law Student Panel

Mānoa Campus, William S. Richardson School of Law, Classroom 5
7:00pm

Publishing in a New Media Era with Chance Carpenter and Matt Luttrell

Mānoa Campus, Krauss Hall 12
7:30pm

Beyond Earth: Strategies for Long-Term Human Survival

Mānoa Campus, Art Building Auditorium (room 132)