YUAN: by Beili Liu
March 9, 2014 - April 11, 2014
Mānoa Campus, Art Building, University of Hawai'i Art Gallery
---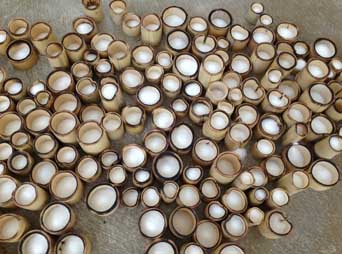 Born in Jilin, China, Beili Liu is a multidisciplinary artist whose works have been presented and recognized nationally and internationally. She explores her cultural roots through her time- and process-based installations and by the abstraction of fleeting and continual energy and contradictory and convergent forces. Through her use and manipulation of materials—thread, paper, incense, wood, salt, and water—she creates microcosms of fragility and poignancy and multi-faceted cultural narratives.
Liu will be in residence at the Department of Art and Art History, University of Hawai'i at Mānoa through its Intersections Visiting Artist program. During her residency, Liu will construct a site-specific installation at the University of Hawai'i Art Gallery. For this work, she is considering the possible use of natural materials such as bamboo and salt that can be found within the Hawaiian Islands. Liu is currently an associate professor at the University of Texas at Austin.
Public Receptions: Sunday, March 9, from 3:00 – 5:00 p.m.; Tuesday, March 11, from 2:00 – 3:00 p.m.
Public Lecture by Beili Liu: Sunday, March 9, 2:00 – 3:00 p.m. Art Auditorium, University of Hawai'i at Mānoa
Image courtesy of Beili Liu. Media: charred bamboo, salt
Ticket Information
Gallery Hours: Monday - Friday 10:00 - 4:00; Sunday 12:00 - 4:00. Closed Saturdays and holidays. Admission is free. Donations are appreciated. Parking fees may apply.
Event Sponsor
Dept. of Art and Art History, College of Arts & Humanities, Manoa Arts and Minds, Mānoa Campus
More Information
Sharon Tasaka, 956-6888, gallery@hawaii.edu, http://www.hawaii.edu/art/exhibitions/art_gallery/
---