UH Saxophone Choir
March 30, 4:00pm - 6:00pm
Mānoa Campus, Orvis Auditorium
---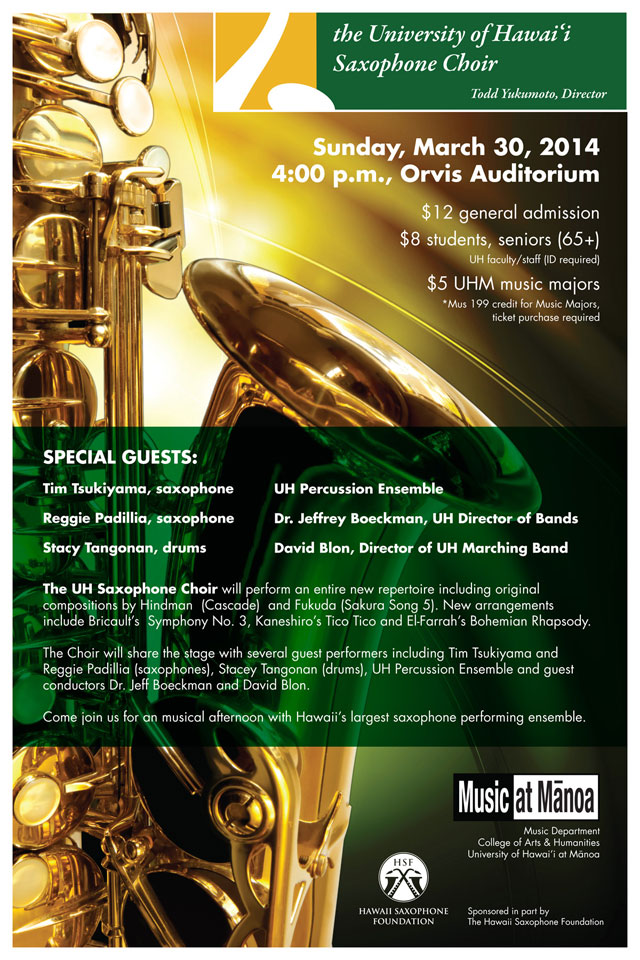 Todd Yukumoto, director
The UH Saxophone Choir will perform an entire new repertoire, including original compositions by Hindman (Cascade) and Fukuda (Sakura Song 5). New arrangements include Bricault's Symphony No. 3, Kaneshiro's Tico Tico and El-Farrah's Bohemian Rhapsody.
The Choir will share the stage with several guest performers including Tim Tsukiyama and Reggie Padillia (saxophones), Stacey Tangonan (drums), the UH Percussion Ensemble, and guest conductors Dr. Jeffrey Boeckman and David Blon.
Come join us for an musical afternoon with Hawaii's largest saxophone performing ensemble.
Ticket Information
$12 general admission, $8 students, seniors (65+), UH faculty/staff (ID required), $5 UHM Music Majors (at the door)
Event Sponsor
Music Department, Mānoa Campus
More Information
(808) 956-8742, uhmmusic@hawaii.edu, http://www.hawaii.edu/uhmmusic
---