BikeUHM 2014: Earth Cycles
April 24, 8:00am - 10:00am
Mānoa Campus, Legacy Path
---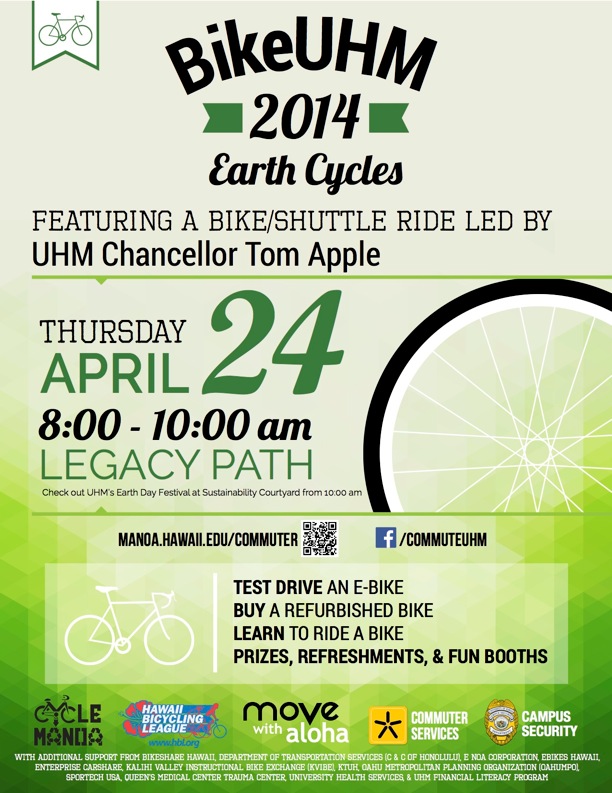 The third annual BikeUHM (pronounced "bike-um"), a fair to promote bicycling to the UH Mānoa campus, welcomes hardened road warriors, those who want to learn how to ride a bike, and everyone in between.
Join us around Legacy Path on the morning of the UHM Earth Day Festival. The highlight of "BikeUHM 2014: Earth Cycles" is a combination bike/Rainbow Shuttle ride from Kaimuki led by UH Manoa Chancellor Tom Apple, escorted by the "Red Hot Ladies" of Hawaii Bicycling League (HBL). The Chancellor and his entourage are scheduled to arrive at Legacy Path at 9:30 a.m.
BikeUHM also features ebike test drives from Ebikes Hawaii, Cycle Manoa's refurbished bike sale (sign-ups start at 9:30am; sale at 10), minor bike repairs and lessons on recumbent tricycles from HBL, and free giveaways and prizes, including bike helmets and bike locks!
Other booths are hosted by KTUH, the Health Promotion Program of University Health Services Mānoa and UHM Financial Literacy Program, Bikeshare Hawaii, Enterprise CarShare, Dept. of Transportation Services (C&C of Honolulu), Oahu Metropolitan Planning Organization (OahuMPO) and more.
The Simply Ono food truck on Krauss Circle will open at 8:00am and serve breakfast specials. Food Services is providing complimentary liquid refreshments to those cycling to the event.
BikeUHM 2014 is sponsored by the Move with Aloha initiative (Office of VCAFO), Commuter Services, and Campus Security & Emergency Management.
After checking out BikeUHM, wheel on over to the Earth Day Festival starting at 10am in Sustainability Courtyard.
Event Sponsor
Commuter Services and Campus Security, Mānoa Campus
More Information
Phyllis Look, (808) 956-9291, phylliss@hawaii.edu, http://www.manoa.hawaii.edu/commuter
---
Thursday, April 24

8:00am

BikeUHM 2014: Earth Cycles

Mānoa Campus, Legacy Path
9:00am

SOFT Adopt-a-Plant & Seed Planting

Mānoa Campus, Sustainability Courtyard (between Kuykendall and HIG)
9:00am

Earth Day Planting

Mānoa Campus, Sustainability Courtyard
10:00am

Cycle Manoa Bike Sale

Mānoa Campus, Legacy Walk
10:00am

2014 Earth Day Festival

Mānoa Campus, Sustainability Courtyard (between Kuykendall and HIG)
12:00pm

Geography Department Lecture Series

Mānoa Campus, Saunders 443
1:00pm

Using LinkedIn to Find Jobs

Mānoa Campus, QLCSS 212
1:30pm

Gavin Tsutsumi, oboe

Mānoa Campus, Orvis Auditorium
3:00pm

Oceanography Seminar

Mānoa Campus, Marine Sciences Building, MSB 100
3:00pm

Geology & Geophysics Final Oral

Mānoa Campus, POST 723
3:30pm

Complementary constraints on light dark matter from heavy meson decays

Mānoa Campus, Watanabe Hall, 112
4:30pm

Born of Conflict: Children of the Pacific War

Mānoa Campus, Center for Korean Studies Auditorium
5:00pm

Ultimate Frisbee Pick-up on Bachman Lawn

Mānoa Campus, Bachman Lawn
6:00pm

Bill McKibben: Updates from the Front Lines of the Climate Fight

Mānoa Campus, Art Auditorium (overflow in Bilger Hall 152)
7:30pm

Concert w/ Mike Love, Sam Ites, Lucie Lynch & Jenna Robinson

Mānoa Campus, Sustainability Courtyard (between Kuykendall and HIG)
7:30pm

4th Annual Piano Project Concert

Mānoa Campus, Orvis Auditorium
8:00pm

Spring Footholds

Mānoa Campus, Earle Ernst Lab Theatre