The Future of Hip Hop Summit: Independence in Art & Business
April 29, 11:30am - 1:30pm
Mānoa Campus, Queen Lili'uokalani Center for Student Services (QLC) 412
---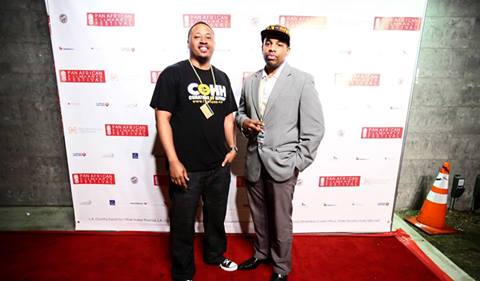 Inspired by the motivation to preserve hip hop culture and its artists, the Curators of Hip Hop and the Ethnic Studies department at UHM have teamed up to deliver a dynamic and insightful week of hip hop content. This workshop/forum will specifically address the question of independence in art and business and feature Grammy-nominated artist Carolyn Malachi from Washington, DC, and Matt Reeves, from Staten Island, NY, one of the featured artists in the film The Curators Volume 1: A Story of Independence.
This workshop/forum will also include filmmakers Jermaine Fletcher and Jimmie Thomas. Fletcher's passion of film came into play while attending Florida A&M University (FAMU). He's worked as a videographer and editor at the Tallahassee's local CBS affiliate, WCTV and has freelanced for Bloomberg TV (NY), ESPN (CT), and MTV (NY). Jermaine has traveled across the Asia Pacific region documenting Hawaiian and other various Asian cultures. Today, he's working as an independent contractor in addition to directing two start-up companies based out of New York, Hawai'i and China. Jimmie Thomas is a dedicated journalist, filmmaker, and entrepreneur from Tallahassee, FL. While attending Florida A&M University (FAMU), he produced sporting events and television shows for FAMCAST (the university's live-streaming broadcast network) and also worked for FAMU's TV20, where he would meet fellow collaborator, Jermaine Fletcher. He has also worked as an Account Executive with Morris Communications in Baltimore, MD, and continues to work on various productions throughout Maryland today.
Ticket Information
This event is free and open to the public.
Event Sponsor
Department of Ethnic Studies, Ethnic Studies Student Association (ESSA), UH Diversity and Equity Initiative, The Curators of Hip Hop, Mānoa Campus
More Information
(808) 956-6915
---
Tuesday, April 29

12:00am

Linguistics Seminar

Mānoa Campus, St. John Auditiorium (St. John, Room 011)
10:00am

Volunteer Fair

Mānoa Campus, Hawaii Hall Lawn
10:00am

Wellness Across Diverse Cultures (Wellness Fair)

Mānoa Campus, McCarthy Mall
11:30am

The Future of Hip Hop Summit: Independence in Art & Business

Mānoa Campus, Queen Lili'uokalani Center for Student Services (QLC) 412
12:00pm

History Final Oral

Mānoa Campus, Sakamaki A201
12:00pm

Student Focus Group on Sexual Violence: Male Undergrads*

Mānoa Campus, Queen Lili'uokalani Center for Student Services, Room 208
12:00pm

Student Focus Group on Sexual Violence: Female Undergrads

Mānoa Campus, Queen Lili'uokalani Center for Student Services, Room 411
3:00pm

Education Final Oral

Mānoa Campus, Ke Kula Kaiapuni 'o Anuenue
3:00pm

Student Focus Group on Sexual Violence: Female Athletes

Mānoa Campus, Athletics Department Letterwinner's Clubhouse
3:00pm

Finalist for Director, HIGP: Jonathan Dehn

Mānoa Campus, POST Building 723
4:00pm

Talk Story with the Office for Civil Rights Re: Sexual Violence at UHM (Open)

Mānoa Campus, Queen Lili'uokalani Center for Student Services, Room 208
5:00pm

Ultimate Frisbee Pick-up on Bachman Lawn

Mānoa Campus, Bachman Lawn
6:00pm

Women in Journalism: Setting the Standard

Mānoa Campus, Architecture Auditorium
6:00pm

Film Screening - The Curators Volume 1: A Story of Independence

Mānoa Campus, George Hall 227