Bollywood Mondays: 'Queen' (2014)
December 1, 3:30pm - 6:15pm
Mānoa Campus, Watanabe 112
---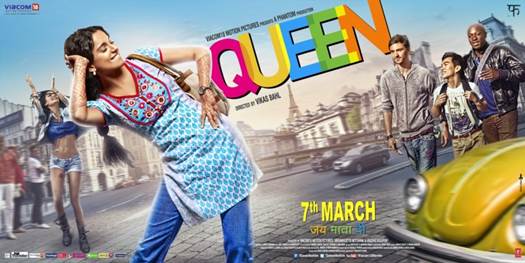 'Queen' was a surprise hit and one of the biggest box office successes in Bollywood in 2014. It stars Kangana Ranaut in an acclaimed performance as Rani ('Queen' in Hindi), a sheltered, middle-class young woman from a conservative family living in a Punjabi neighborhood of Delhi.
Engaged to be married, on the eve of the wedding Rani is dumped by her fiance Vijay (Rajkummar Rao). Devastated, she plucks up her courage and decides to go alone on the European honeymoon that the couple had planned. What results is a journey of a lifetime for Rani as she learns to navigate in the world, and finds her place in it along the way.
'Queen' is the thirteenth movie in the 13th UH Bollywood film series, running every Monday this fall. For a copy of the full semester film series schedule, please see the contact information below.
Ticket Information
Free and open to the public
Event Sponsor
History, Mānoa Campus
More Information
Ned Bertz, (808) 956-6766, bertz@hawaii.edu
---