2015 MFA Thesis Exhibitions
January 18, 2015 - February 13, 2015
Mānoa Campus, Art Building, University of Hawai'i Art Gallery
---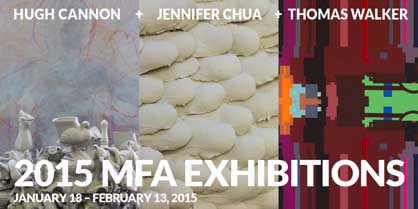 The graduate program at the Department of Art & Art History, University of Hawai'i at Mānoa presents "2015 MFA Exhibitions." The program is a comprehensive and diverse center for the graduate study of the visual arts and Asian and Pacific art history. These exciting exhibitions are part of a demanding course of study, production, and review. MFA candidates Hugh Cannon, Jennifer Chua, and Thomas Walker present new and engaging thesis works that demonstrate each artist's caliber of ideas, skills, awareness of the global context within which art is created and circulated, and critically engaged artistic practice.
Receptions:
Sunday, Jan. 18, 3:00-5:00 p.m.
Friday, Jan. 30, 2:30-3:30 p.m.
Gallery Walk-throughs:
Friday, Jan. 30
1:00 p.m. Jennifer Chua, "Always Petal by Petal"
1:30 p.m. Hugh Cannon, "Reliquaries"
2:00 p.m. Tom Walker, "Sequence"
Ticket Information
Gallery Hours: Monday - Friday 10:00 - 4:00; Sunday 12:00 - 4:00. Closed Saturdays; Jan. 19, Dr. Martin Luther King, Jr. Day. Admission is free. Donations are appreciated. Parking fees may apply.
Event Sponsor
Dept. of Art & Art History, College of Arts & Humanities, Mānoa Campus
More Information
Sharon Tasaka, (808) 956-6888, gallery@hawaii.edu, http://www.hawaii.edu/art/exhibitions+events/exhibitions/
---