Rani Arbo & daisy mayhem - American Roots Music
January 25, 4:00pm - 6:00pm
Mānoa Campus, Orvis Auditorium
---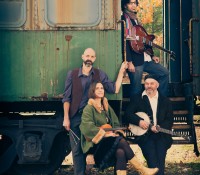 One of "America's most inventive string bands" (The Boston Herald), Rani Arbo & daisy mayhem mix traditional, original, and contemporary sounds on fiddle, guitar, bass and recycled percussion — and top that with powerful leads and joyous harmonies from four skilled singers. They generously share a 14-year alchemy of life experience, band chemistry and musical evolution in performances that plumb the human condition with wit, courage and heart.
Rani Arbo & daisy mayhem draw from the deep well of American roots music and have an adventurous way of mixing things up. A 200-year-old Georgia Sea Island song gets a New Orleans groove; an Irish fiddle tune, new lyrics and a Peruvian cajon; Bruce Springsteen, high-octane, bluegrass-style harmonies. The band's original songs range from folk to swing to pop, and are peopled with characters any audience can relate to — a young man seeking his spiritual path, an elderly rose gardener in New York City, a mother finding her way through breast cancer, a devoted wife contemplating her husband's vision of a home in the wilderness.
With influences from Doc Watson to Django Reinhardt, from traditional Ghanaian drumming to the funky Meters, and from old-time fiddling to Bob Dylan, daisy mayhem celebrates America's rich musical past and brings it into the present. They pick up what's lying around — tin cans, old songs, human stories — and create something new and moving.
Ticket Information
Purchase tickets at http://go.hawaii.edu/Ve
Event Sponsor
Outreach College - Community Services, Mānoa Campus
More Information
(808) 956-8246, csinfo@hawaii.edu, http://outreach.hawaii.edu/community
---