The Spider and the Fly: The Evil of Capitalism
September 27, 3:00pm - 5:00pm
Mānoa Campus, Hamilton Library, #401
---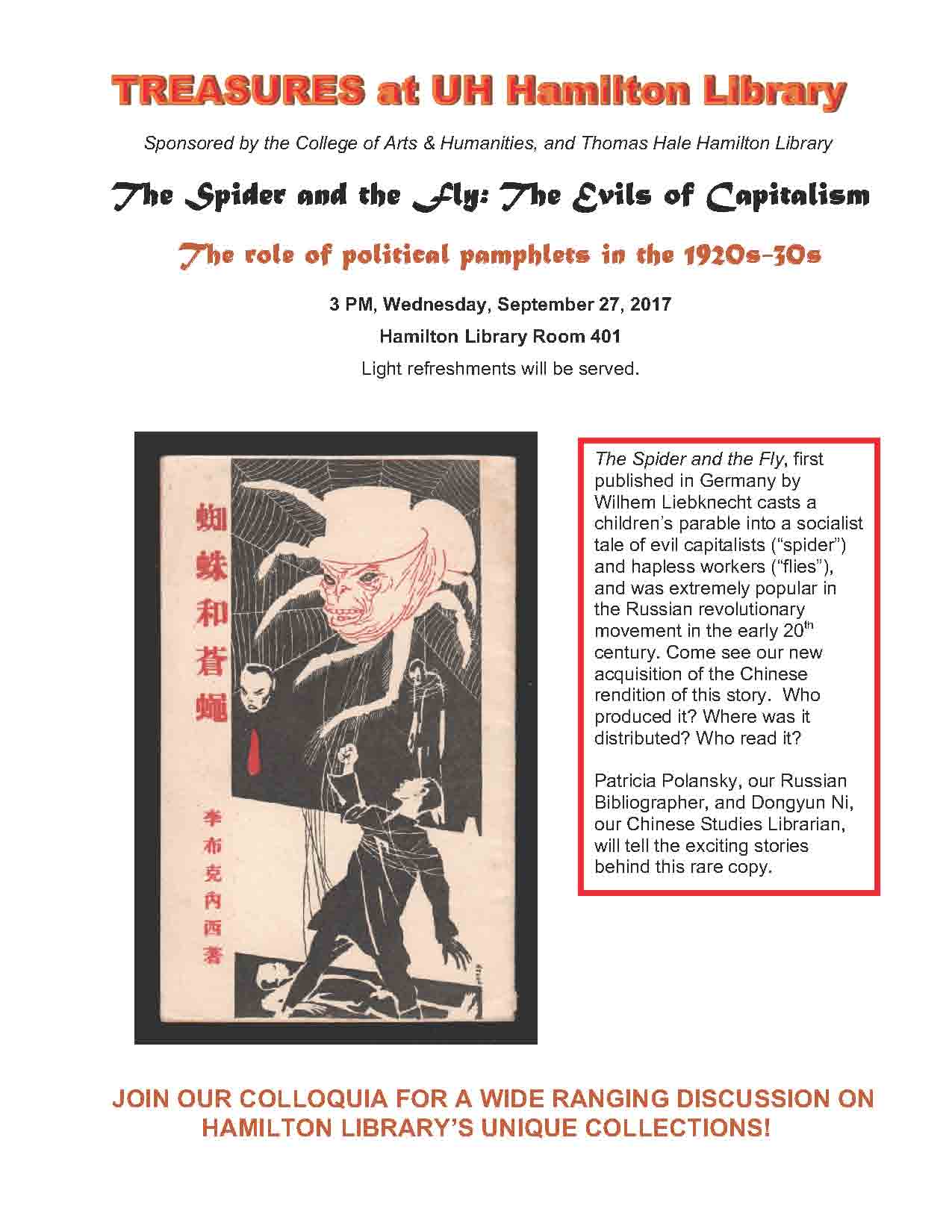 The Spider and the Fly, first published in Germany by Wilhem Liebknecht casts a children's parable into a socialist tale of evil capitalists ("spider") and hapless workers ("flies"), and was extremely popular in the Russian revolutionary movement in the early 20th century. Come see our new acquisition of the Chinese rendition of this story. Who produced it? Where was it distributed? Who read it?
Patricia Polansky, our Russian Bibliographer, and Dongyun Ni, our Chinese Studies Librarian, will tell the exciting stories behind this rare copy.
This event is sponsored by the College of Arts & Humanities, and Thomas Hale Hamilton Library.
Ticket Information
Open to public
Event Sponsor
Hamilton Library, Mānoa Campus
More Information
(808) 956-8564
---
Wednesday, September 27

10:00am

Qualify for SNAP with SP@M

Mānoa Campus, Campus Center - Near Jamba Juice
10:00am

Stone Steakhouse

Mānoa Campus, Campus Center Food Court
11:00am

CCBAC's Wellness Fair

Mānoa Campus, Campus Center Courtyard
3:00pm

The Spider and the Fly: The Evil of Capitalism

Mānoa Campus, Hamilton Library, #401
3:30pm

Atmospheric Sciences Seminar

Mānoa Campus, Marine Sciences Building, MSB 100
4:00pm

The Origins of Homosexuality

Mānoa Campus, Queen Liliuokalani Center for Students 208
5:30pm

Practice for Your Interview!

Mānoa Campus, Webster Hall, Room 103
7:00pm

Looking China Film Screenings

Mānoa Campus, Moore Hall, Tokioka Room (319)