Mother's Day Glass + Ceramics Sale 2018
May 4, 2018 - May 6, 2018
Mānoa Campus, ART Building, Ceramics Studio
---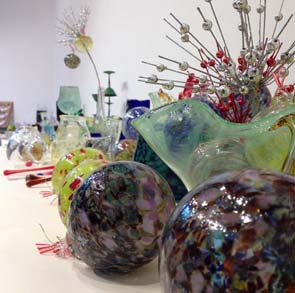 MOTHER'S DAY GLASS + CERAMICS SALE 2018
10:00 a.m. – 4:00 p.m.
The annual Mother's Day Ceramic + Glass Sale features great gifts for your mother, grandmother, aunt, or grad! Check off your gift list and support the art students and the Department of Art + Art History.
Directions + where to park:
http://manoa.hawaii.edu/commuter/visitor.php
Parking fees may apply.
For more information contact Professor Rick Mills at rlmills@hawaii.edu or 808-956-5258
Ticket Information
Admission is free
Event Sponsor
Art + Art History, Mānoa Campus
More Information
Sharon Tasaka, (808) 956-8364, tasakas@hawaii.edu, http://www.hawaii.edu/art/exhibitions+events/exhibitions/?p=3204
---
Friday, May 4

8:00am

Spring Undergraduate Showcase

Mānoa Campus, Sakamaki Hall/Campus Center
9:30am

Economics Final Oral

Mānoa Campus, Saunders 515
12:30pm

Women's Studies Colloquium Spring 2018

Mānoa Campus, Saunders Hall 637
12:30pm

The Massification of Master's Degree in Translation in China

Mānoa Campus, UHM College of Education 1776 University Ave Wist Hall 131 Honolulu, HI 96822
1:00pm

Global Environmental Science Symposium

Mānoa Campus, MSB 114
2:00pm

Sociology Final Oral

Mānoa Campus, Webster 112
3:30pm

Zoology Final Oral

Mānoa Campus, BIL 150
3:30pm

Geology and Geophysics Seminar

Mānoa Campus, POST 723