Library Talk: Periodic Encounters. Everyday Treasures. Critical Reflections
September 10, 3:00pm - 4:00pm
Mānoa Campus, Hamilton Library #306
---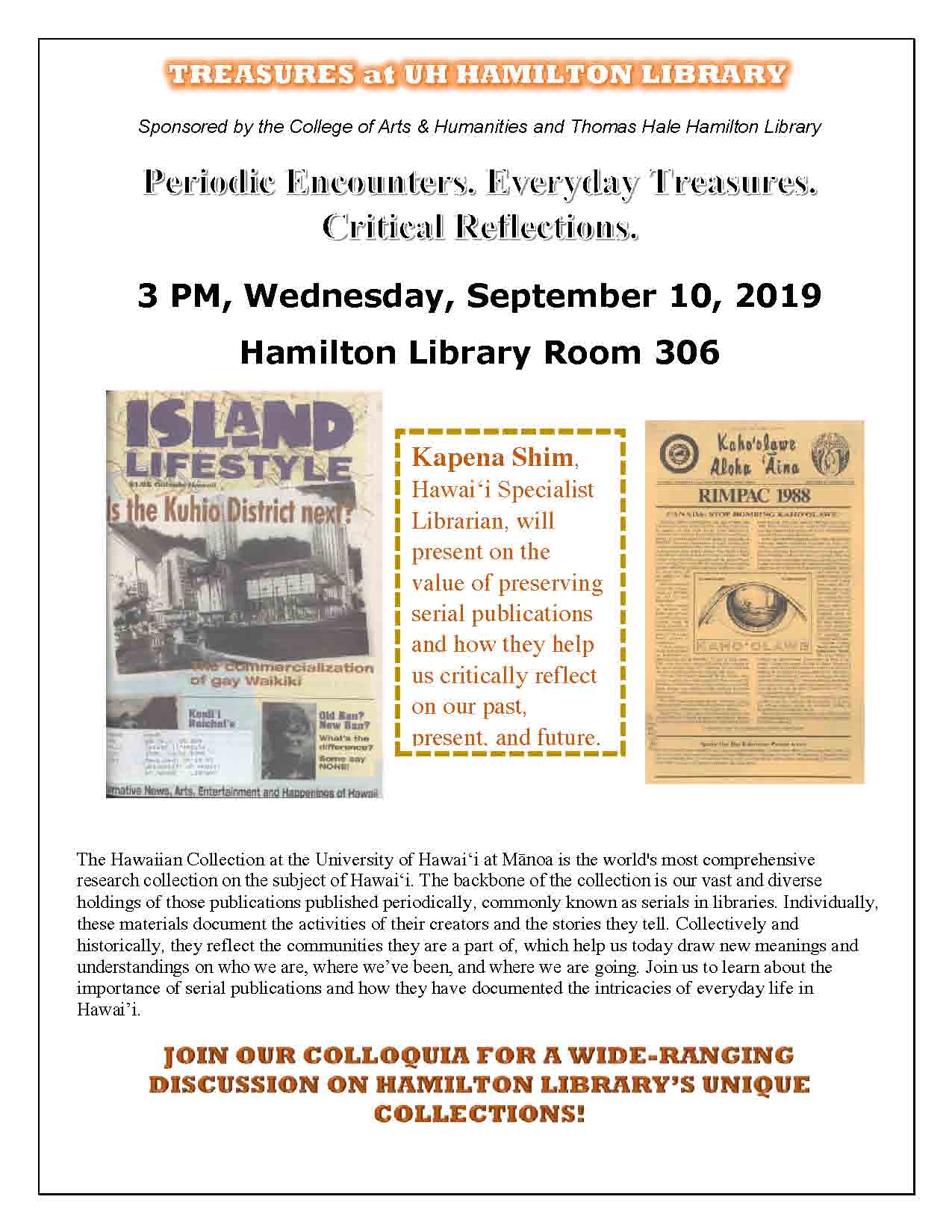 The Hawaiian Collection at the University of Hawaiʻi at Mānoa is the world's most comprehensive research collection on the subject of Hawaiʻi.
The backbone of the collection is our vast and diverse holdings of those publications published periodically, commonly known as serials in libraries. Individually, these materials document the activities of their creators and the stories they tell. Collectively and historically, they reflect the communities they are a part of, which help us today draw new meanings and understandings on who we are, where we've been, and where we are going.
Join us to learn about the importance of serial publications and how they have documented the intricacies of everyday life in Hawaiʻi. Kapena Shim, Hawaiʻi specialist librarian, will present on the value of preserving serial publications and how they help us critically reflect on our past, present and future.
This talk is sponsored by the College of Arts and Humanities and Thomas Hale Hamilton Library.
Event Sponsor
Hamilton Library, Mānoa Campus
More Information
Yuma Totani, (808) 956-8564, yuma.totani@hawaii.edu, https://manoa.hawaii.edu/library/about/news/library-treasures/
---
Tuesday, September 10

9:00am

Blood Bank of Hawaii Blood Drive

Mānoa Campus, Campus Center, Ballroom C
10:30am

Undergraduate Research Opportunities Program (UROP) Information Session

Mānoa Campus, iLab Building 37
10:30am

Love Life Fair

Mānoa Campus, Campus Center Courtyard
11:00am

International Pacific Research Center Seminar

Mānoa Campus, POST 414
12:00pm

WRRC/'Ike Wai Seminar

Mānoa Campus, Information Technology Center, 2520 Correa RD, Rm 105A
12:00pm

Seminar: Stochastic Modeling of the Earth Subsurface: Dealing with Unobserved

Mānoa Campus, ITC 105A
3:00pm

14 Things You Should Know About the Interview

Mānoa Campus, Queen Liliuokalani Center for Student Services Rm. 212
3:00pm

Library Talk: Periodic Encounters. Everyday Treasures. Critical Reflections

Mānoa Campus, Hamilton Library #306
5:30pm

San Jose Alumni & Friends Mixer

Mānoa Campus, SP2, Communal Bar & Restaurant
7:00pm

Hawai'i Botanical Society Meeting

Mānoa Campus, Manoa Public Library