Na'au Check: a Kukakuka Group...
September 12, 12:30pm - 2:30pm
Mānoa Campus, Bachman Hall/Lawn
---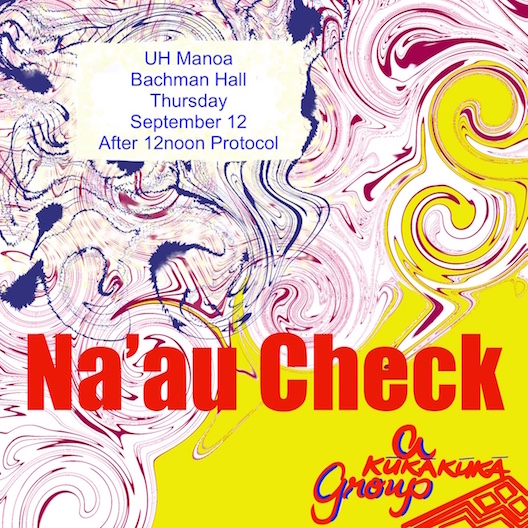 Na'au Check: a Kukakuka Group...
Na'au Checks are kukakuka sessions/groups and will:
Address the holistic well being of our students and provide an outlet for current issues that they are facing.
Provide a safe space for our student with the ability to constructively process the hurt and frustration they are feeling with the intention of mental well being and healing.
Prevent generational trauma and continue prevention of social, economic, and health disparities.
A place to process and debrief their experiences on sacred lands and our responsibilities to protect it.
Not be a place for debate.
Na'au Checks will serve all students, both undergraduate and graduate. Note: Diacritical marks not allowed...
Event Sponsor
UH Women's Center, UH Health Promotions, Public Health, Mānoa Campus
More Information
Malia Ka'io, (808) 956-8059, uhmwomen@hawaii.edu
---
Thursday, September 12

12:00pm

Seminar by Dr. Hayden Shelby

Mānoa Campus, Saunders Hall 443B
12:00pm

Brown Bag Biography: Julien Gorbach

Mānoa Campus, Kuykendall 410
12:00pm

Lu Xun & Walt Whitman

Mānoa Campus, Moore Hall Rm. 109
12:30pm

Na'au Check: a Kukakuka Group...

Mānoa Campus, Bachman Hall/Lawn
1:30pm

Undergraduate Research Opportunities Program (UROP) Information Session

Mānoa Campus, iLab Building 37
3:00pm

Almanac For The Beyond (warning: this is not a forecast....)

Mānoa Campus, KUY 410
3:00pm

Oceanography Seminar - Justin Small

Mānoa Campus, Marine Science Building 114
6:30pm

Why Hasn't Hunger Been Solved in the United States?

Mānoa Campus, William S. Richardson School of Law, Moot Courtroom
6:30pm

Hanauma Bay Educational Lecture Series

Hanauma Bay Visitor Center