Bookstore National Student Day - Free Giveaways!
October 16, 10:00am - 2:00pm
Mānoa Campus, Manoa Bookstore
---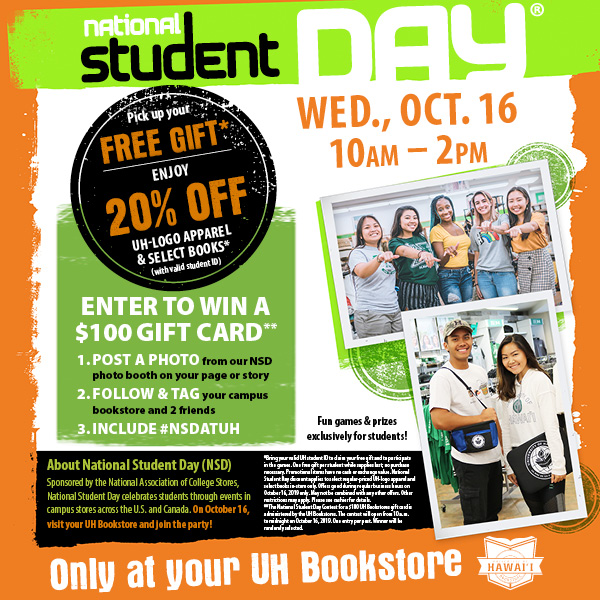 Attention, Students! Join the celebration at our annual National Student Day on Wed., Oct. 16 at your campus bookstore. Fun games, FREE prizes exclusively for students! Enjoy 20% off UH-logo apparel and select books (with valid student ID). Snap a selfie and enter for a chance to win a $100 Bookstore gift card!
Event Sponsor
Bookstore, University of Hawaii
More Information
Dee Okahara, (808) 956-3373, http://www.bookstore.hawaii.edu
---
Wednesday, October 16

7:00am

2019 Future Focus Conference

Hawaii Convention Center
10:00am

Bookstore National Student Day - Free Giveaways!

Mānoa Campus, Manoa Bookstore
11:30am

Laulima Basics

Mānoa Campus, Webster
12:00pm

Architecture Final Oral

Mānoa Campus, ARCH 214
12:00pm

Orientation: Crown Prince Akihito Scholarship 2020-21

Mānoa Campus, Moore Hall 319 (Tokioka Room), 1890 East-West Rd.
12:00pm

To 'Leave' or to 'Move': Experiences of Citizenship along the Border

Mānoa Campus, Burns Hall 2118
12:30pm

Theatre Final Oral

Mānoa Campus, KT 101
12:45pm

Food Drop @ the Campus Center Courtyard

Mānoa Campus, Campus Center Courtyard
1:00pm

Career Day

Mānoa Campus, Campus Center Ballroom
3:00pm

LGBTQ+ Student Coffee Hour

Mānoa Campus, ZOOM ID: 202 052 344
3:00pm

UH Manoa Sustainability Council

Mānoa Campus, HIG 210
3:30pm

Atmospheric Sciences Seminar

Mānoa Campus, Marine Sciences Building, MSB 100
4:00pm

Na'au Checks: a Kukakuka group

Mānoa Campus, Queen Lili'uokalani Center #412
4:30pm

SAPFB Town Hall

Mānoa Campus, Campus Center 203C
4:30pm

Maunakea Talk Story with ALU

Mānoa Campus, Bale/ Manoa Gardens
5:00pm

Family Pau Hana

Mānoa Campus, Hemenway Courtyard
5:00pm

Family Pau Hana

Mānoa Campus, Manoa Gardens/ Ba-Le
5:00pm

Health Professionals Panel

Mānoa Campus, Kuykendall Hall, Room 210