They Use Their Voices. . .To Engage in Welfare Policy
March 12, 3:00pm - 4:30pm
Mānoa Campus, QLC #412
---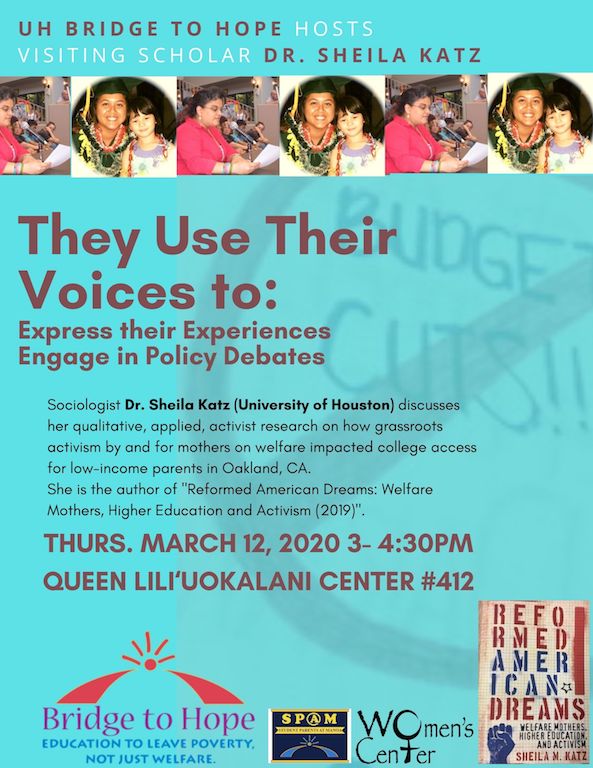 Sociologist Dr. Sheila Katz (Univ. Houston) discusses her activist research on how grassroots activism by and for mothers on welfare impacted college access for low-income parents in Oakland, CA.
*****
UH Bridge to Hope provides similar educational access for welfare participating parents.
******
Dr. Katz is the author of "Reformed American Dreams: Welfare Mothers, Higher Education & Activism (2019).
Event Sponsor
Bridge to Hope / Women's Center, Mānoa Campus
More Information
956-8059
---
Thursday, March 12

8:30am

Women in Leadership - Own Your Seat!

Mānoa Campus, Information Technology Center
9:00am

Atmospheric Sciences Master's Defense

Mānoa Campus, IPRC Conference Room, POST 414
9:00am

How to be a Good Ally, Brunch & Speaker Panel

Mānoa Campus, Queen Liliuokalani Center #412
10:00am

Civil Engineering (Final Oral)

Mānoa Campus, Holmes Hall 287
12:00pm

Safe Spring Break

Mānoa Campus, McCarthy Mall
12:00pm

LHRC Conference Abstract Writing Workshop

Mānoa Campus, Queen Liliuokalani Building
12:00pm

Tropical Medicine Final Oral

Mānoa Campus, JABSOM MEB 304
12:00pm

OER Creation & Adaptation

Mānoa Campus, Kuykendall 106 Events Room
3:00pm

They Use Their Voices. . .To Engage in Welfare Policy

Mānoa Campus, QLC #412
3:00pm

Oceanography Seminar - Rosanna Alegado

Mānoa Campus, Marine Science Building 100
6:00pm

Executive Vineyards 2020

Royal Hawaii Hotel
6:30pm

Inouye Chair Keynote: Robert Waldinger's "What Makes a Good Life?"

Mānoa Campus, Art Auditorium