SCEP Live Online James McCarthy: Gettysburg Dawn to Dark
March 10, 10:00am - 10:45am
Mānoa Campus, Hosted by Kaunoa Senior Center Online
---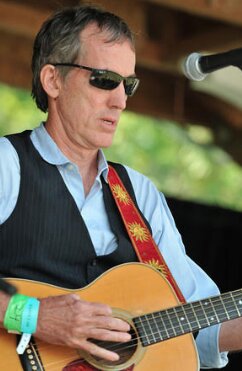 Gettysburg Dawn to Dark
Explore the past and present, triumphs and tragedies of America's most famous battlefield. Selected from a national pool of artists as the Artist in Residence for Gettysburg National Military Park, James B. McCarthy lived in the 175 year old Kilingle farmhouse, which saw heavy action during the battle. This three-day series provides an outline of each of the three days of the Battle of Gettysburg. James will share his unique experience there including unusual experiences, fascinating insights, and the oral history of the battle itself.
Suitable for upper elementary school students and older.
Day 1: The Land and its Heroes Today, we lay the basic groundwork for this massive confrontation, including the Union search for the 'missing' Confederate armies. Songs of the era and modern compositions as well as first-hand field experiences will highlight the 'hallowed ground.' 
Day 2: Chicken Skin at High Noon July 2, 1863 was a day of hurried heroism and fierce fighting. Walking solo through the area yields both beauty and terror. 
Day 3: The African American Experience Carrying the torch, bearing the burden. After the historic Pickett's Charge, African Americans of Gettysburg stepped forward after much trauma to rebuild their lives and help heal the nation. But was their effort honored? Their stories are as fascinating as any but are rarely shared.
Event Sponsor
Outreach College Community Services, Mānoa Campus
More Information
Outreach College, 8089568246, csinfo@hawaii.edu, https://www.outreach.hawaii.edu/events/storyteller-james-mccarthy-2/
---
Wednesday, March 10

10:00am

SCEP Live Online James McCarthy: Gettysburg Dawn to Dark

Mānoa Campus, Hosted by Kaunoa Senior Center Online
11:00am

Experience South America HonCC International Committee Virtual Spring Event

Honolulu Campus, https://sites.google.com/hawaii.edu/experiencesouthamerica/home
11:30am

ORE Seminar: Automating and IoTing coastal water quality sensors

Mānoa Campus, Zoom Meeting, Please see description for Meeting ID and Passcode
12:00pm

Intro to Geographic Information Systems (GIS)

Mānoa Campus, Zoom
12:00pm

What Mindset Are You? (Growth or Fixed)

Honolulu Campus, https://www.honolulu.hawaii.edu/ikea
12:00pm

Sinophone Literary Articulations Across the Borderlands

Mānoa Campus, https://hawaii.zoom.us/webinar/register/WN_4f0hM5O0Qwm7SWrMLl0OUw
12:00pm

Got Kids? Catch up with SPAM Every Wednesday!

Mānoa Campus, for meeting password email gotkids@hawaii.edu
1:00pm

Undergraduate Admissions Warrior Webinar: Prospective Student Q&A

Mānoa Campus, Office of Admissions
1:00pm

My Two Italies, Italy Study Abroad Information Session

Mānoa Campus, https://hawaii.zoom.us/j/92483762753
1:30pm

London Study Abroad Information Session

Mānoa Campus, https://zoom.us/j/5804182139
1:30pm

London Study Abroad Information Session

Mānoa Campus, https://zoom.us/j/5804182139
2:00pm

Nursing Practice Final Oral

Mānoa Campus, Zoom
2:00pm

Florence, Italy Study Abroad Information Session

Mānoa Campus, https://hawaii.zoom.us/j/92483762753
3:00pm

Career Fair Prep: The Virtual Edition

Mānoa Campus, Zoom Meeting
3:00pm

Paris, France Study Abroad Information Session

Mānoa Campus, https://tinyurl.com/11pxcx43
3:30pm

Atmospheric Sciences Seminar

Mānoa Campus, Virtual Meeting
4:00pm

LGBTQ+ Student Coffee Hour

Mānoa Campus, On Zoom
5:00pm

Applying to Health Professional School

Mānoa Campus, Online
7:00pm

Brandt Webinar, Polynesian Ancestral Knowledge

Mānoa Campus, Zoom