Book talk: Natali Pearson - Belitung: The Afterlives of a Shipwreck
January 26, 4:00pm - 5:00pm
Mānoa Campus,
In Person - Hamilton LIbrary Room 306 or Zoom - Register below
---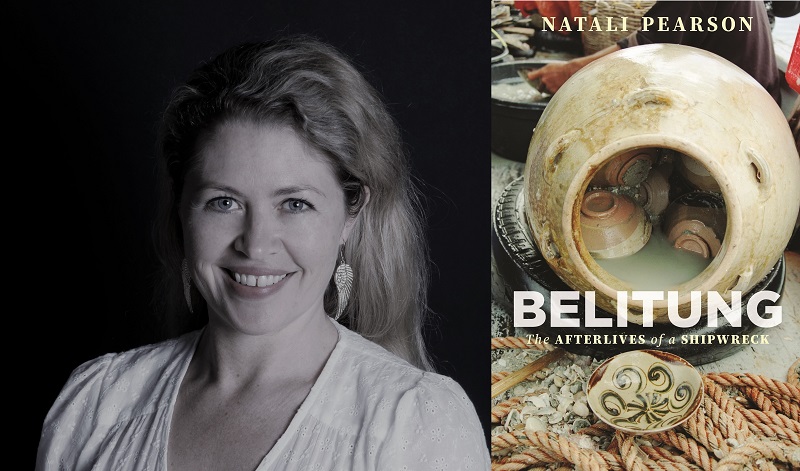 UH Press 75th Anniversary Book Talk Series
Dr. Natali Pearson is a Curriculum Coordinator at the Sydney Southeast Asia Centre at the University of Sydney. Her research focuses on the protection, management and interpretation of underwater cultural heritage in Southeast Asia. Natali completed a PhD on underwater cultural heritage in Indonesia (2018, USYD). She also holds a Master of Museum Studies (2013, USYD); a Master of Arts in Strategy and Policy (2006, UNSW); and a Bachelor of Arts (Asian Studies) with Honours Class One in History and Indonesian Studies (2002, UNSW).
The Belitung is a 9th century Arabian-style shipwreck discovered in Indonesian waters in 1998 with a full cargo load of over 60,000 Tang-dynasty ceramics. Together, the vessel and its cargo are unique in the annals of maritime archaeology for what they reveal about early trade networks and the centrality of the ocean –and of Southeast Asia – within the Silk Road story. But this shipwreck also has a modern tale to tell, about how nation states appropriate heritage for their own purposes, and of how the transnational qualities of shipwrecks position them as critical considerations in international debates about who owns – and is responsible for – shared heritage. Using the Belitung shipwreck as a case study, this book applies a critical heritage studies lens to underwater cultural heritage, effectively shifting our thinking about shipwrecks beyond popular tropes of romance, pirates and treasure, and towards an understanding of how the relationships between sites, objects and people have the power to shape the stories we tell of the past in the present.
Ticket Information
Register in advance for the zoom access to this meeting
Event Sponsor
UH Press and Hamilton Library and Center for Southeast Asian Stuides, Mānoa Campus
More Information
Clem Guthro, 8089567205, guthroc@hawaii.edu
---
Thursday, January 26

9:00am

COVID-19 Vaccination Clinic

Mānoa Campus, Campus Center Ballroom
10:30am

Undergraduate Research Opportunities Program (UROP) Hybrid Information Session

Mānoa Campus, http://go.hawaii.edu/TE3
10:30am

Menstrual Panty Workshop

Mānoa Campus, Queen Liliokalani Center, Room 412
12:30pm

Study Abroad Info Meeting - Summer in Kobe, Japan

Mānoa Campus, Moore 155A or Zoom
2:00pm

Study Abroad Info Meeting - Summer in Paris, France

Mānoa Campus, Zoom
4:00pm

Book talk: Natali Pearson - Belitung: The Afterlives of a Shipwreck

Mānoa Campus, In Person - Hamilton LIbrary Room 306 or Zoom - Register below
7:30pm

Dance Dance Dance

Mānoa Campus, 1770 East-West Rd, Honolulu, HI 96822