34th Annual Graduate Exhibition
January 15, 2012 - February 3, 2012
Mānoa Campus, Art Building, University of Hawaii Art Gallery
---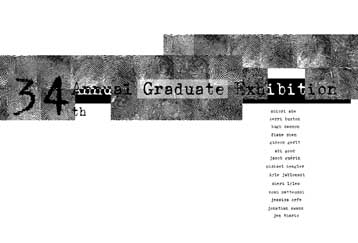 The graduate program at the Department of Art and Art History, University of Hawai'i at Mānoa is proud to present the "34th Annual Graduate Exhibition."
The program is a comprehensive and diverse center for the graduate study of Asian and Pacific art history and the visual arts. MFA candidates hone their skills and expand their ideas through a critically engaged artistic practice while gaining a greater awareness of the global context within which art is made and circulated.
This exciting exhibition is part of a demanding course of study, production, and review, highlighting the work of students currently enrolled in the MFA program.
Ticket Information
Monday – Friday 10:30 – 5:00; Sunday 12:00 – 5:00 Closed Saturdays; January 16, Martin Luther King Jr. Day. Admission is free. Donations are appreciated. Parking fees may apply.
Event Sponsor
Department of Art and Art History; College of Arts and Humanities; and Mānoa Arts & Minds, Mānoa Campus
More Information
Abigail Good, 216-673-5129, agood@hawaii.edu, http://www.hawaii.edu/art/exhibitions/art_gallery/
---