Micronesian Connections Forum
February 16, 1:30pm - 6:00pm
Mānoa Campus, Room 3125/3121, John Burns Hall, UH Mānoa Campus
---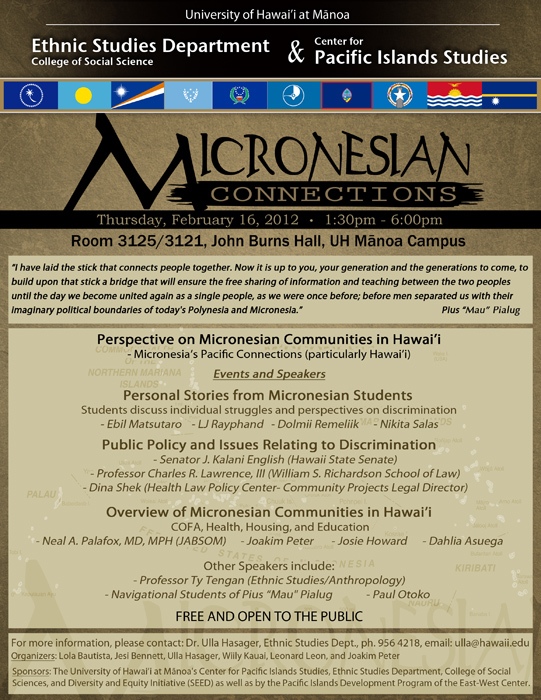 Perspectives on Micronesian Communities in Hawaiʻi and Micronesia's Pacific Connections (particularly Hawaiʻi)
Program:
Opening: Dr. Ty Kawika Tengan, and Paul Otoko
Panel 1: Personal Stories of Micronesian Students. Students discuss individual struggles and perspectives on discrimination: Ebil Matsutaro, LJ Rayphand, Dolmii Remeliik, Nikita Salas
Panel 2: Public Policy and Issues Relating to Discrimination: Senator Kalani English, Law Professor Charles R. Lawrence, Health Law Policy Center/Community Projects Legal Director, Dina Shek. Moderator: Jon Osorio.
Panel 3: Overview of Micronesian Communities in Hawaiʻi - COFA, Health, Housing, and Education: Neal A. Palafox, Joakim Peter, Josie Howard, and Dahlia Asuega.
Closing: Navigational Students of Pius "Mau" Piailug
Pius "Mau" Piailug: "I have laid the stick that connect people together. Now it is up to you, your generation and the generations to come, to build upon that stick a bridge that will ensure the free sharing of information and teaching between the two peoples until the day we become united again as a single people, as we were once before; before men separated us with their imaginary political boundaries of today's Polynesia and Micronesia."
The idea for this forum was influenced by Master Navigator, Mau Piailug's quote above and a concern with inter-ethnic relations in Hawai'i, particularly concerning our newest immigrant groups from Micronesia.
Education, research, and civic engagement can go a long way to avoid repeating the results of difficult integration in the local community, discrimination, and prejudice of new immigrant groups of Hawai'i. With this forum, we aim at contributing to a positive and open dialogue in the UH community about the current situation, leading to both public knowledge and policy changes.
Come when you can, leave when you have to.
Light refreshments will be served.
Organizers: Lola Bautista, Jesi Bennett, Ulla Hasager, Willy Kauai, Leonard Leon, and Joakim Peter.
Ticket Information
Free and open to the public
Event Sponsor
Ethnic Studies Department, College of Social Sciences, Diversity and Equity Initiative (SEED), as well as Pacific Islands Development Program, Mānoa Campus
More Information
Ulla Hasager, 956 4218, ulla@hawaii.edu
---
Thursday, February 16

8:00am

Bioengineering Research Symposium

651 Ilalo Street, Medical Education Building Auditorium
8:45am

Beginning Watercolor Painting Classes for Seniors: Beginners-Session 2

Windward Campus, Hale Kuhina 115
9:00am

Tapestry of Modernity: Urban Cultural Landscapes of Colonial Korea, 1920s-1930s

Mānoa Campus, Center for Korean Studies
12:00pm

History Forum - Professor Wiesner-Hanks

Mānoa Campus, Sakamaki A201 (History Dept. Library)
12:00pm

Yeiko Mizobe So and the Japanese Women's Home for Abused Picture Brides

Mānoa Campus, 325 Henke Hall
12:00pm

Experts at the Palace Lecture Series

Kana'ina Building (Old Archives Building) on the grounds of 'Iolani Palace
1:00pm

KSBE Workshop

Honolulu Campus, Building 20, Rm 3
1:30pm

Aaron Cardenas, guitar

Mānoa Campus, Orvis Auditorium
1:30pm

Micronesian Connections Forum

Mānoa Campus, Room 3125/3121, John Burns Hall, UH Mānoa Campus
2:00pm

FAFSA Workshop

Honolulu Campus, Building 20, Rm 3
3:30pm

Where art thou, O Higgs?

Mānoa Campus, Wat. 112
4:30pm

The Decade Ahead: Global Risks and Opportunities

Mānoa Campus, Imin Center - Jefferson Hall
6:30pm

Preparing for the PCAT, DAT, and OAT

Mānoa Campus, Bilger 152
7:00pm

Hula

Windward Campus, Hale Kuhina 115
7:30pm

HamSlam: Hamilton Library Slam Poetry

Mānoa Campus, UH Manoa Hamilton Library Sunny Alcove