Monte Carlo Night
February 17, 7:00pm - 11:00pm
Mānoa Campus, Campus Center Ballroom
---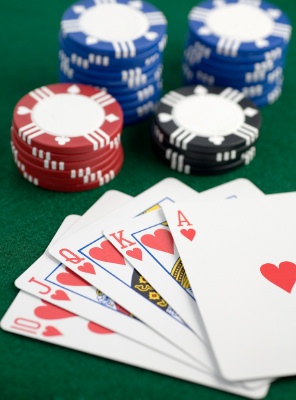 Calling all UH Manoa students:
Feeling lucky this week?
On Friday, February 17, we'll be hosting Monte Carlo Night from 7:00PM to 11:00PM in the Campus Center Ballroom.
There will be many mock casino games such as Blackjack, Poker, Roulette, and Craps!
In addition to the fun games, there will be FREE food, including a chocolate fountain, and drinks. Validated UH Manoa students can also win raffle prizes. Raffle prizes include one iPad 2, two iPod Touches, and one iPod Nano.
This event and FREE and OPEN to everyone. Restrictions (being a validated UHM student) only apply to those who win raffle prizes.
See you then!
Brought to you by Campus Center Board Activities Council (CCB AC)
Phone: #(808) 956-4491
Email: ccbac@hawaii.edu
Website: http://uhmccbac.weebly.com/index.html Like us on Facebook: University of Hawaii at Manoa Campus Center Board Activities Council
Friend us on Facebook: UH Manoa Ccb AC
Event Sponsor
Student Life and Development, Mānoa Campus
More Information
Activities Council, 956-4491, ccbac@hawaii.edu, http://uhmccbac.weebly.com/
---
Friday, February 17

9:00am

Tapestry of Modernity: Urban Cultural Landscapes of Colonial Korea, 1920s-1930s

Mānoa Campus, Center for Korean Studies
1:00pm

iMovie Workshop

Mānoa Campus, QLCSS, Room 104
1:00pm

Economics Final Oral

Mānoa Campus, Miller Room
1:00pm

"The Nuptial Deal: Motivations for and the Tradeoffs of Marriage Equality"

Honolulu Campus, Norman W.H. Loui Conference Center, Building 2, Room 201
1:30pm

ITS Presentation: Introduction to Google@UH

UHM Kuykendall Hall 201, HITS locations, Manoa Cable Channel 67
3:30pm

Botany/Biology (Zoology) Seminar

Mānoa Campus, BioMed B-103
6:30pm

Diving into History: Technical and Sport Exploration of Shipwreck speaker

Mānoa Campus, NOAA Marine Sanctuary Offices 6600 Kalanianole Hwy Suite 300
7:00pm

Monte Carlo Night

Mānoa Campus, Campus Center Ballroom