Entanglement of Movement & Memories, MFA thesis by Megan Bent
February 21, 2012 - February 24, 2012
Mānoa Campus, Art Building, Commons Gallery
---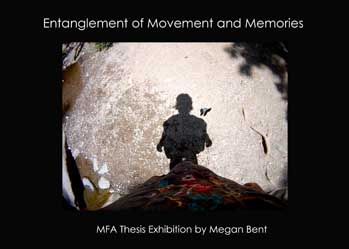 Megan Bent presents her MFA thesis exhibition "Entanglement of Movement and Memories," an installation piece comprised of a gallery-sized drawing that maps 79 days worth of paths walked by the artist. Each line is journey, and these journeys envelop the walls, floors, and windows of the gallery. Interspersed in the gallery are monitors displaying looped videos, which highlight specific moments of walking.
Opening reception will be held on Sunday, February 19, from 3:00-5:00 p.m. The public is invited.
Closed Monday, February 20, Presidents' Day.
Ticket Information
Gallery hours: Tuesday - Friday, 10:30-4:00. Admission is free. Parking fees may apply.
Event Sponsor
Art and Art History, Mānoa Campus
More Information
Megan Bent, 808-782-3799, BentMeganM@gmail.com, http://www.hawaii.edu/art/exhibitions/commons_gallery/
---
Tuesday, February 21

8:45am

Watercolor Painting Classes for Seniors: Beyond Beginning II

Windward Campus, Hale Kuhina 115
12:00pm

Linguistics Seminar

Mānoa Campus, St. John Auditorium, Room 011
12:00pm

Pacific Connections Seminar Series: [Re]connecting Hawai'i and Tahiti

Mānoa Campus, John Burns Hall 3121/3125, East-West Center
12:00pm

public lecture by Huang Yasheng

Mānoa Campus, see details below
1:30pm

Sara Stejskal, soprano

Mānoa Campus, Orvis Auditorium
3:00pm

Transnational Significance of the American Civil War

Mānoa Campus, Sakamaki A201
3:00pm

History Forum - Professor Jorg Nagler

Mānoa Campus, Sakamaki A201 (History Dept. Library)
4:00pm

Meditation

Mānoa Campus, 311 Gilmore Hall
4:00pm

public lecture by Huang Yasheng

Mānoa Campus, see details below
4:30pm

Our Kuleana to End Human Trafficking

Mānoa Campus, Queen Liliuokalani Center for Student Services rm.412, University of Hawaii Manoa
5:30pm

Intermediate Slack Key Guitar

Windward Campus, Hale Palanakila 104
6:00pm

Japanese Flower Arranging Ikebana Sogetsu

Windward Campus, Hale Kuhina 115