Yang Jing, master of the Chinese pipa
February 26, 4:00pm - 5:30pm
Mānoa Campus, Imin Center - Jefferson Hall, East-West Center
---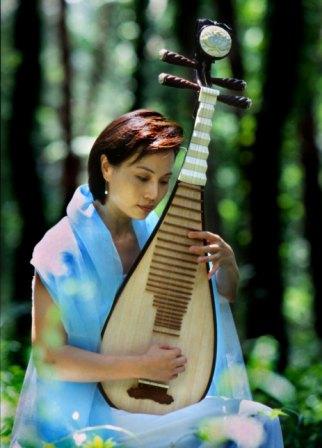 The East-West Center, with the cooperation of the UH-Manoa Music Department, presents world renowned virtuoso of the pipa lute Yang Jing in an exciting concert of mostly-traditional works for Chinese instruments.
Combining her love for the millennium-old tradition of Chinese music with an innovative spirit of exploration, Yang Jing builds on a vast amalgam of musical history from both East and West to create a musical experience that transcends boundaries. The concert will present a variety of styles and moods, and should serve as an enjoyable introduction to the world of the Chinese pipa.
Joining her will be an ensemble of accomplished locally based musicians on traditional Chinese instruments: Frederick Lau on dizi; Lai Yi-Chieh on guzheng and Kuan Yuan-Yu on erhu.
Note: The University of Hawaii at Manoa Music Department will present a separate concert by Yang Jing, together with a variety of Western instruments, on Friday, March 2, 7:30 p.m. at Orvis Auditorium.
Ticket Information
$12 general; $8 students, senior & military
Event Sponsor
East-West Center, Mānoa Campus
More Information
944-7341
---
Sunday, February 26

1:00pm

Commuter Cycling 101

Mānoa Campus, Moore 119
2:00pm

Winter Footholds

Mānoa Campus, Earle Ernst Lab Theatre
2:00pm

FAX gallery walk-through and opening reception

Mānoa Campus, Art, University of Hawai'i Art Gallery
2:00pm

The Beauty of Mathematics and Science

Mānoa Campus, Campus Center Ballroom
4:00pm

UH Wind Ensemble & UH Symphony Band

Pearl City Cultural Center
2100 Hookiekie St., Pearl City, HI 96782
4:00pm

Yang Jing, master of the Chinese pipa

Mānoa Campus, Imin Center - Jefferson Hall, East-West Center