Japanese Film Series
February 28, 5:30pm - 7:30pm
Mānoa Campus, Center for Korean Studies Auditorium
---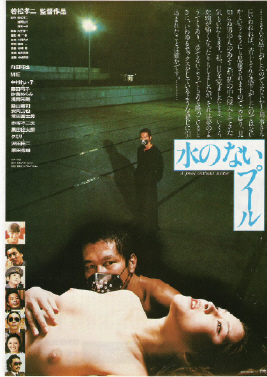 A Pool Without Water
Japan | 1982 | 109 min
Directed by WAKAMATSU Koji
In Japanese with English subtitles
Synopsis
A man experiencing a mid-life crisis drugs and rapes women while they sleep. Based on a true story.
Awards & Honors
Best New Actress - 1983 Yokohama Film Festival
Notes
Last semester we watched a selection of director Koji WAKAMATSU's 1960s films, now see what he was up to in the 1980s!
SCENES OF GRAPHIC SEXUAL VIOLENCE. VIEWER DISCRETION IS ADVISED.
Spring 2012 Film Series
Join the
East Asian Film Society
every other Tuesday at the Center for Korean Studies Auditorium. For more information please look at the
Detailed Schedule
.
Ticket Information
Free
Event Sponsor
East Asian Film Society, Mānoa Campus
More Information
Matt Winchell, 347-746-7749, mj23@hawaii.edu, http://www2.hawaii.edu/~mj23/
---
Tuesday, February 28

7:30am

First Aid / CPR / AED Training

Mānoa Campus, Campus Center Room 308
8:45am

Watercolor Painting Classes for Seniors: Beyond Beginning II

Windward Campus, Hale Kuhina 115
12:00pm

Linguistics Seminar

Mānoa Campus, St. John Auditorium, Room 011
3:00pm

In Her Mother's Image

Mānoa Campus, QLC 412
4:00pm

Meditation

Mānoa Campus, 311 Gilmore Hall
4:00pm

The New Jim Crow: Crimmigration, Youth and Dissent

Mānoa Campus, Crawford 115
5:30pm

Intermediate Slack Key Guitar

Windward Campus, Hale Palanakila 104
5:30pm

Japanese Film Series

Mānoa Campus, Center for Korean Studies Auditorium
6:30pm

Financing Your Graduate Education

Mānoa Campus, Bilger 152