Japan's Kagawa Chorus to Sing at Palikū Theatre
February 29, 7:00pm - 8:30pm
Windward Campus, Paliku Theatre
---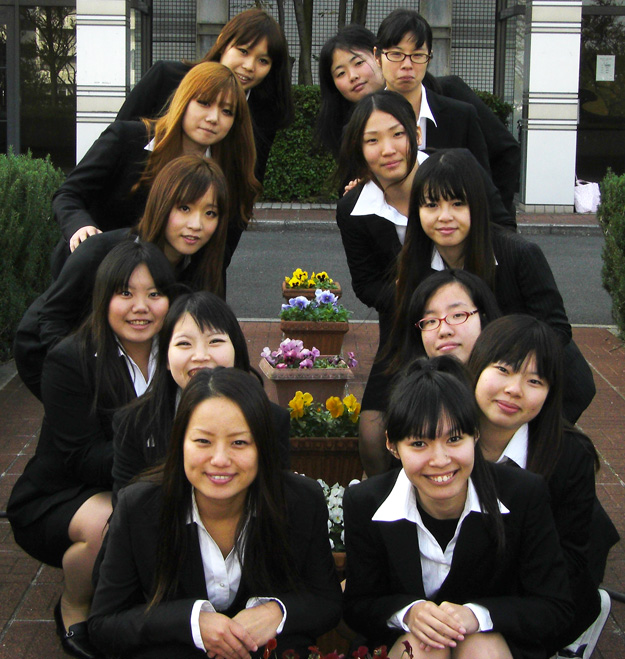 Windward Community College's sister college in Japan, Kagawa Junior College, will perform choral music on Wednesday, February 29, 2012 at 7 p.m. at Palikū Theatre. Professor Rika Watanabe, who is a well-known soprano in Japan, will accompany 20 students from the Kagawa college chorus. This concert has special meaning for the students, who wish to share a heartfelt presentation of traditional and modern choral music in a medley of children's songs and seasonal landscapes.
Kagawa Junior College is located on the southern island of Shikoku. Since 1989, Kagawa students have been visiting the campus as part of their education program to learn and exchange language and culture, and also to experience Hawaiian hospitality. Three days after arriving home from last year's visit, they experienced the devastating earthquake and tsunami of March 11, 2011.
In a message from the students, "The March 11 Great Earthquake of Eastern Japan severely damaged the beautiful "country side" (our image of the traditional hometown) of Northeastern Japan. As the news unfolded, we could hardly believe that this tragedy was actually happening within our country. The people of Japan are working hard for a quick recovery from this disaster. This experience uncovered deeply held feelings about Japan's traditional landscapes within many of our people. We would like to share with you, through choral music, our emotional connection to these beautiful landscapes."
Ticket Information
The concert is free and open to the public.
Event Sponsor
International Education, Windward Campus
More Information
Toshi Ikagawa, 236-9216, ikagawa@hawaii.edu
---
Wednesday, February 29

9:45am

Posture and Tai Chi (2 of 4)

Windward Campus, Hale Kuhina 115
10:30am

Passport to Sophomore Success

Mānoa Campus, Campus Center, 2nd & 3rd Floors
12:30pm

A Mountain of Difference

Mānoa Campus, Moore Hall 319
3:00pm

Ocean & Resources Engineering Seminar

Mānoa Campus, MSB 114
5:30pm

Zen - Level 1 Class (Beginner-Level)

Mānoa Campus, Campus Center - Room 309
6:00pm

Play In Clay

Windward Campus, Hale Palanakila 216
6:00pm

First Aid / CPR Class

Mānoa Campus, Hemenway Hall 215
6:30pm

Tai Chi (Yang Style)

Windward Campus, Hale Kuhina 115
6:30pm

Pre-Med Panel

Mānoa Campus, Webster 103 & 104
7:00pm

Japan's Kagawa Chorus to Sing at Palikū Theatre

Windward Campus, Paliku Theatre
7:30pm

Tai Chi (Yang Style)

Windward Campus, Hale Kuhina 115