Korean Film Series
March 6, 6:30pm - 8:00pm
Mānoa Campus, Center for Korean Studies Auditorium
---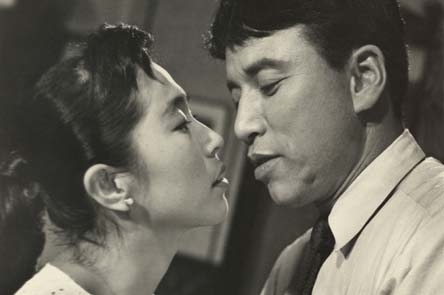 The Love Marriage
Korea | 1958 | 93 min
Directed by Lee Byung-il
In Korean with English Subtitles

Synopsis
Dr. Ko's daughters have rocky love lives. The first confesses her past on her honeymoon when her husband asks her to forgive his past. He breaks off the marriage and leaves while she confines herself to home for three years. The second falls for a poor literary man and leaves home when her parents oppose him. The third chooses her father's arrogant assistant instead of a promising businessman.

Spring 2012 Film Series
What made Koreans laugh in the late 1950s and early 1960s? If popular movies are any indication, you'll find some answers to this question in the Center for Korean Studies spring 2012 film series. This semester's program is stocked with a half-dozen representative family and romantic comedies produced by well-known directors of the period.
Ticket Information
Free
Event Sponsor
Center for Korean Studies, Mānoa Campus
More Information
Matt Winchell, 347-746-7749, mj23@hawaii.edu, http://ks316.moore.hawaii.edu/wp/?p=1693
---
Tuesday, March 6

8:30am

Music/Ethnomusicology Final Oral

Mānoa Campus, Hamilton A153
8:45am

Watercolor Painting Classes for Seniors: Beyond Beginning II

Windward Campus, Hale Kuhina 115
12:00pm

Linguistics Seminar

Mānoa Campus, St. John Auditorium, Room 011
12:00pm

Shifting Currents in US-Pacific Islands Fisheries Relations

Mānoa Campus, John Burns Hall room 3121/3125, East-West Center
1:00pm

'Imi Na'auao: Google Docs Workshop

Honolulu Campus, Building 20, Rm. 3
4:00pm

Meditation

Mānoa Campus, 311 Gilmore Hall
4:00pm

Presentation on Urbanization and Intergenerational Relations

Mānoa Campus, Saunders 244
6:00pm

Japanese Flower Arranging Ikebana Sogetsu

Windward Campus, Hale Kuhina 115
6:00pm

First Aid / CPR Class

Mānoa Campus, Campus Center 307
6:30pm

Korean Film Series

Mānoa Campus, Center for Korean Studies Auditorium