Aikea @UH Slam Jam
December 5, 4:00pm - 6:00pm
Mānoa Campus, Hemenway Hall/Manoa Gardens Courtyard
---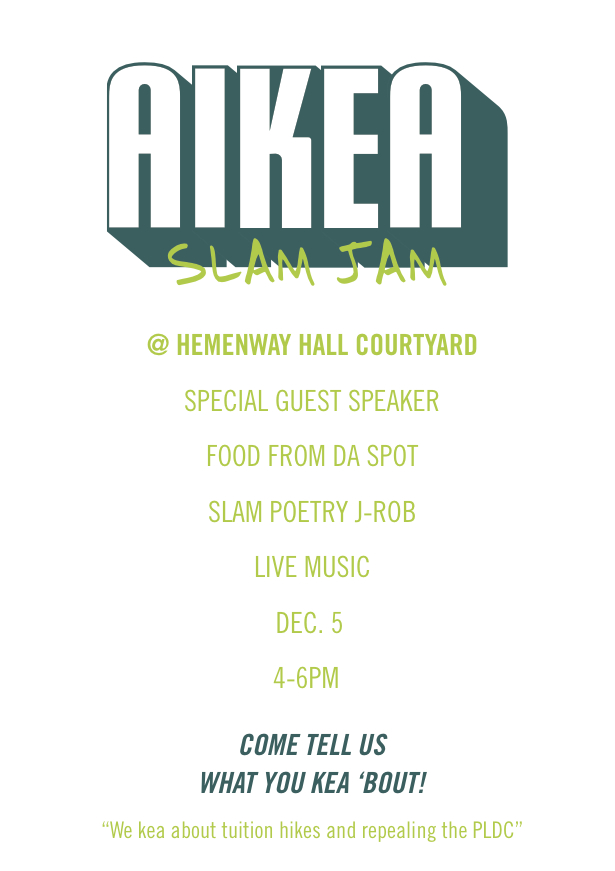 Please Join Aikea @ UH for its first campus social!
This event will include free food, slam poetry by J-Rob and others, and live music.
At Aikea @UH, we kea about justice & equality. From repealing the PLDC to fighting tuition hikes & much more. Come tell us what you kea about on campus and how we can take action to make change and progress on campus and across the island!
Event is open to all: students, faculty, and community members
***Aikea @ UH's Mission Statement***
We at Aikea UH embrace and promote diversity, social justice and equality. We reject politicians who break their word and decline policies and systems that betray the people. We, as students, will lead, vote, organize, and act to protect our education, our future, and our island home.
Ticket Information
Free!
Event Sponsor
Aikea @ UH, Mānoa Campus
More Information
808-492-3954, aikea.uh@gmail.com, https://www.facebook.com/AikeaAtUH
---
Wednesday, December 5

7:30am

The Wellness Center - Fitness Class Schedule

Maui Campus, Pilina Bldg., Wellness Center
8:00am

First Aid / CPR / AED Training

Mānoa Campus, Campus Center Room 203E
9:00am

Exploring Web 2.0 & Accessibility (Webinar)

Mānoa Campus, Online
9:00am

Mobile Veterans Center Dec. 5 Cancelled

Mānoa Campus, Varney Circle near QLC & Hawai'i Hall
10:00am

TPSS 430 Christmas Plant Sale

Mānoa Campus, Campus Center
12:00pm

Lisa Uperesa

Mānoa Campus, Tokioka Room, Moore 319
2:00pm

Microbiology Thesis Defense

Mānoa Campus, Kuykendall 310
2:00pm

Sustainability Open House

Mānoa Campus, Environmental Center Krauss Annex 19
3:00pm

Ocean & Resources Engineering Seminar

Mānoa Campus, MSB 114
3:00pm

EALL Talk Series

Mānoa Campus, Moore 258
4:00pm

Aikea @UH Slam Jam

Mānoa Campus, Hemenway Hall/Manoa Gardens Courtyard
4:30pm

Study with a Buddy!

Hawaiʻi Campus, Manono Campus, Papa 'ā Hale (Building 380, Room 380-34B)
5:00pm

Chess Club at UH Manoa Meeting

Mānoa Campus, Campus Center Room 310
6:00pm

Play In Clay

Windward Campus, Hale Palanakila 216
6:30pm

Tai Chi (Yang Style)

Windward Campus, Hale Kuhina 115
7:30pm

'Ukulele Concert at Paliku Theatre

Windward Campus, Paliku Theatre
7:30pm

A Manoa Christmas

Mānoa Campus, Kennedy Theatre