Motorcycle & Moped Helmet Safety Presentation & Giveaway
November 19, 3:30pm - 5:30pm
Mānoa Campus, Shidler College of Business Main Auditorium
---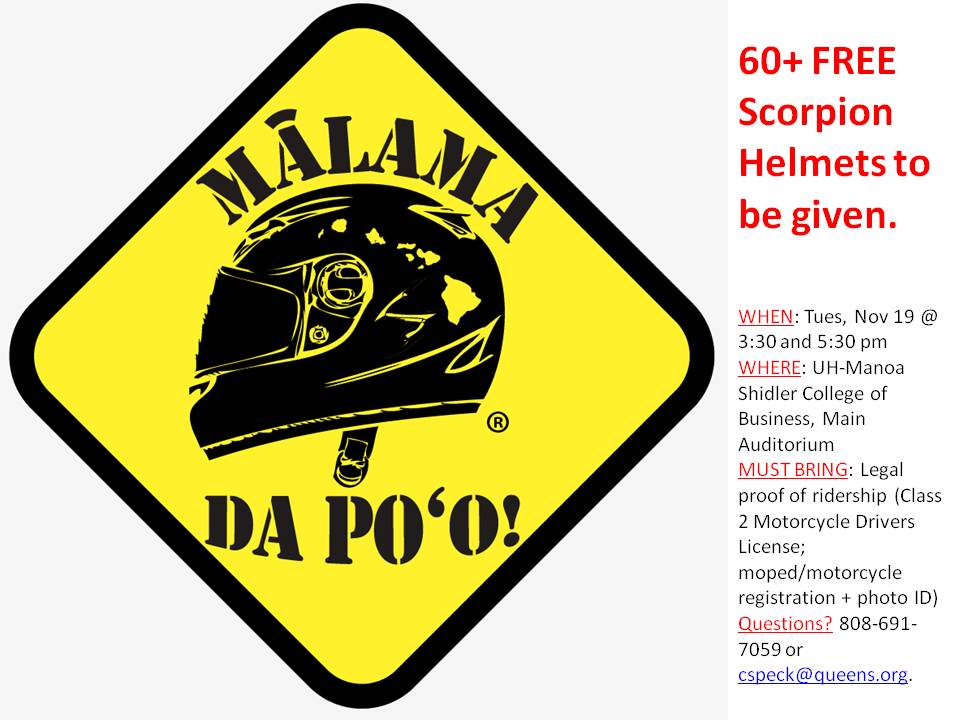 On Tuesday, November 19, The Queen's Trauma Center will be at Shidler College of Business, giving away 60+ brand new Scorpion Helmets to audience members who attend a 1 hour presentation. If you sometimes ride without a helmet, or your helmet is old, or you really don't like the one you have....COME TO THIS PRESENTATION! You will not regret it.
Times: Mandatory Registration begins at 3:30 and 5:30. Come early so if you're selected to win a helmet, you'll have more choices! Presentation times run from 4-5 p.m., and 6-7 p.m. Helmets will be given following presentations.
Location: Shidler College of Business Main Auditorium
Must Bring: LEGAL proof of ridership, such as a valid Driver's License showing Class 2 (Motorcycle and Scooter) endorsement, or Registration Card for your moped plus photo ID.
Questions? Post them to the Hawaii Trauma Injury Prevention Facebook page, or call 691-7059 or write to cspeck@queens.org.
Event Sponsor
Parking, Mānoa Campus
More Information
Cora Speck, 808-691-7059, cspeck@queens.org, https://www.facebook.com/events/587571604625922/
---
Tuesday, November 19

7:30am

The Wellness Center - Fitness Class Schedule

Maui Campus, Pilina Bldg., Wellness Center
8:15am

Second JIMAR/PIFSC Symposium, "Climate and Change"

Mānoa Campus, Imin Conference Center (EWC), Koi Room
12:00pm

Addiction Incorporated Documentary

Mānoa Campus, Student Services Building room 412
1:30pm

Study Abroad Informational Meeting

Mānoa Campus, Moore 319
1:30pm

Prem Brosio, guitar

Mānoa Campus, Orvis Auditorium
3:30pm

Moped/Motorcycle Safety Presentation + Helmet Giveaway

Mānoa Campus, Shidler A-102
3:30pm

Motorcycle & Moped Helmet Safety Presentation & Giveaway

Mānoa Campus, Shidler College of Business Main Auditorium
4:30pm

International Language Exchange

Mānoa Campus, Krauss Hall 012
5:30pm

Moped/Motorcycle Safety Presentation + Helmet Giveaway

Mānoa Campus, Shidler A-102
5:30pm

Motorcycle & Moped Helmet Safety Presentation & Giveaway

Mānoa Campus, Shidler College of Business Main Auditorium
6:30pm

Ever Considered Chiropractic? You Should!

Mānoa Campus, Wist Hall, Andrew W.S. in the College Collaboration Center
7:00pm

Addiction Incorporated Documentary

Mānoa Campus, Student Services Building room 412
7:30pm

UH Contemporary Music Ensemble

Mānoa Campus, Orvis Auditorium