Spring 2015 Cram Jam
May 10, 2015 - May 14, 2015
Mānoa Campus, Campus Center
---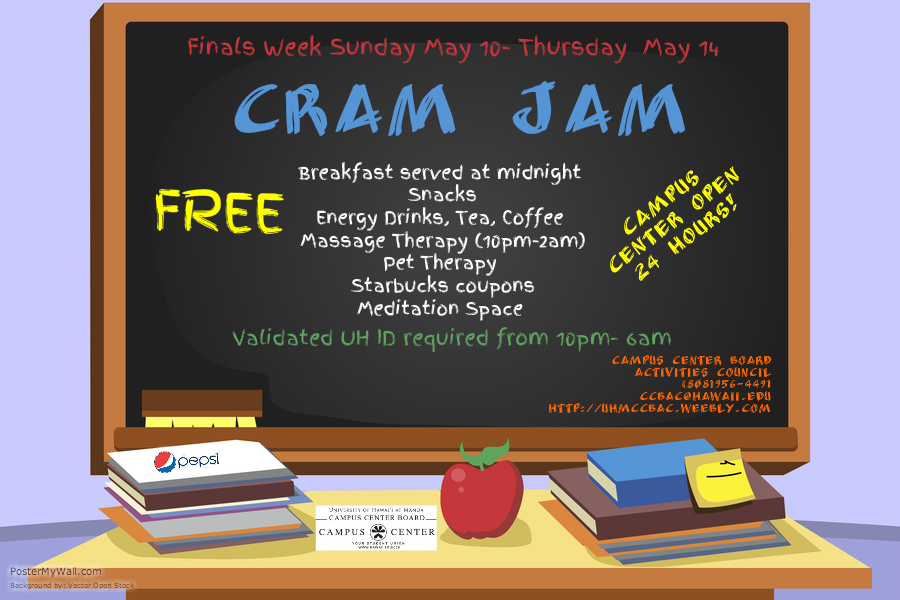 CRAM JAM for Finals!
It's that time of the semester as FINALS roll in. Looking for a space to study for finals? Campus Center is the place to be. It will be open 24 hours a day during finals week from Sunday, May 10 at 6:00p to Friday, May 15 at 10P.
****Daily night time FREE programs include: - Midnight breakfast - Massage - Free drink sampling - Pet therapy from 6p - 8p (Sunday, 5/10) and 9p - 10p (Monday, 5/11 to Thursday, 5/14) - Snacks and beverages - Meditation spaces.
****RIO/CSOs may sponsor a night of CRAM JAM as volunteers and receive a Campus Center gift certificate. Contact ccbac@hawaii.edu if interested.
****CRAM JAM is brought to you by the Campus Center Board Activities Council (CCB AC), which is dedicated to bringing fun and safe activities to the UHM community.
THIS EVENT IS FREE AND OPEN TO UHM students. Please bring along your UH ID card.
***Presented by the Campus Center Board Activities Council (CCB AC)***
Campus Center Board Activities Council Contact Info -Phone: (808) 956-4491 -Email: ccbac@hawaii.edu -Website: www2.hawaii.edu/~ccbac/
'Like' us on Facebook: www.facebook.com/CCBEvents
'Follow/tag' us on Instagram: uhm_activities_council
Event Sponsor
Campus Center Board, Mānoa Campus
More Information
CCB AC, 956-4491, ccbac@hawaii.edu, http://www2.hawaii.edu/~ccbac/
---