Better Tomorrow Speaker Series: New Frontiers of Planetary Seismology
February 6, 3:30pm - 4:30pm
Mānoa Campus, POST 723
---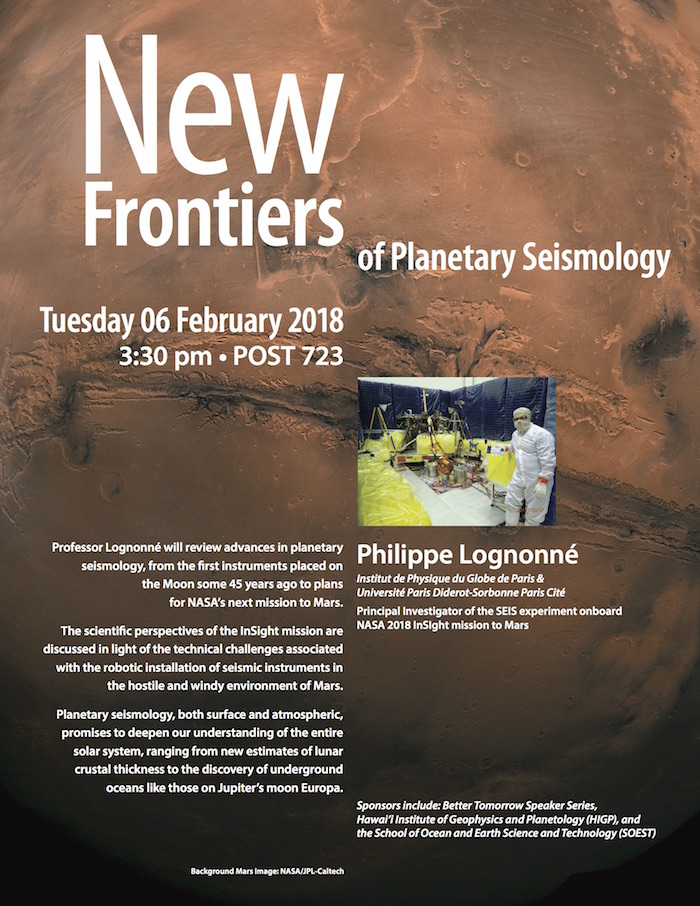 UH Manoa Better Tomorrow Speaker Series:

New Frontiers of Planetary Seismology

With Philippe Lognonné, Institut de Physique du Globe de Paris & Université Paris Diderot-Sorbonne Paris Cité

Professor Lognonné will review advances in planetary seismology, from the first instruments placed on the Moon some 45 years ago to plans for NASA's next mission to Mars.

The scientific perspectives of the InSight mission are discussed in light of the technical challenges associated with the robotic installation of seismic instruments in the hostile and windy environment of Mars.

Planetary seismology, both surface and atmospheric, promises to deepen our understanding of the entire solar system, ranging from new estimates of lunar crustal thickness to the discovery of underground oceans like those on Jupiter's moon Europa.
Ticket Information
Free
Event Sponsor
Better Tomorrow Speaker Series, Hawai'i Institute of Geophysics and Planetology (HIGP), and the School of Ocean and Earth Science and Technology (SOEST), Mānoa Campus
More Information
Robert Perkinson, (808) 351-8076, perk@hawaii.edu
---
Tuesday, February 6

10:00am

BikeUHM 2018

Mānoa Campus, Campus Center Courtyard
12:00pm

WRRC/Ike Wai Seminar

Mānoa Campus, HIG 210
12:00pm

WRRC/IkeWai Seminar

Mānoa Campus, HIG 210
1:00pm

East-West Toastmasters Leadership/Public Speaking Club Meeting

Mānoa Campus, Campus Center 307
2:30pm

Study Abroad in Lille, France

Mānoa Campus, Moore 205
3:30pm

Better Tomorrow Speaker Series: New Frontiers of Planetary Seismology

Mānoa Campus, POST 723
5:30pm

Introduction to Structured Query Language (SQL)

Honolulu Campus, 874 Dillingham Blvd
5:30pm

IT Essentials: PC Hardware and Software (A+ Certification Preparation)

Honolulu Campus, 874 Dillingham Blvd