Opening Night: SymbioSEAS Science-Art Exhibit
March 1, 6:00pm - 10:00pm
Mānoa Campus, The ARTS at Marks Garage (1159 Nuuanu Ave, Honolulu, HI 96817)
---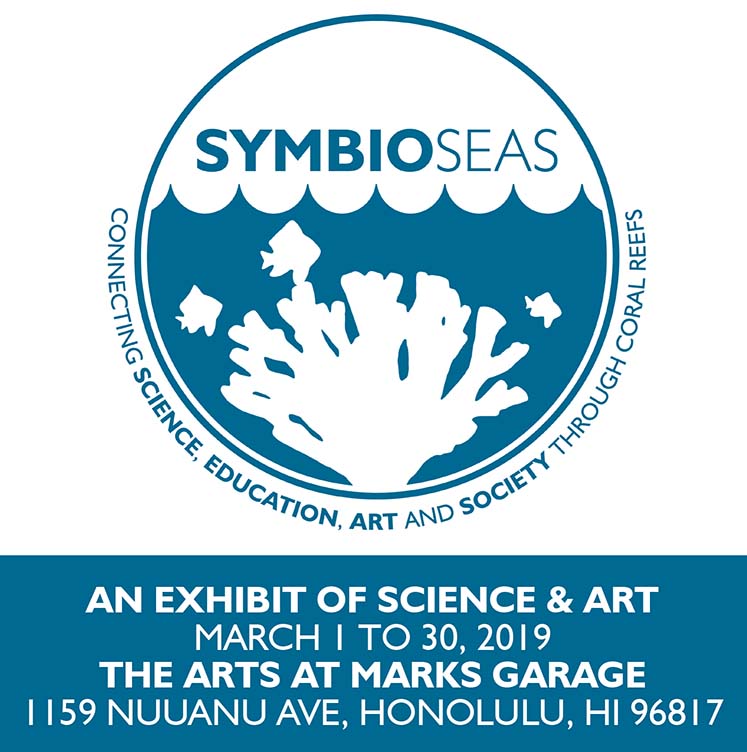 SymbioSEAS: Connecting Science, Education, Art, and Society through Coral Reefs is a locally-based art exhibit that will be on display from March 1st to 30th, 2019 at the ARTS at Marks Garage in Chinatown. SymbioSEAS represents the efforts of scientists and staff at the Hawaiʻi Institute of Marine Biology working with community artists and organizers over the past year to bring global awareness to the health & rehabilitation of our oceans and coral reef through cultivation of a gallery that showcases coral ecosystems research through various 2-D and 3-D mediums. SymbioSEAS is being held in honor of Dr. Ruth Gates and is partially funded by the Western Society of Naturalists Rafe Sagarin Fund for Innovative Ecology and the HIMB MakerLab (with support from the National Science Foundation).
A variety of public programs will accompany the gallery, including science and art workshops, community dinners, film screenings, and more.
Join us for the SymbioSEAS gallery opening! First Friday festivities will include a docent tour of the gallery and live musical performances.
Cost: Free and open to the public
Ticket Information
Free and open to the public
Event Sponsor
HIMB, Mānoa Campus
More Information
(808) 799-6624, https://www.facebook.com/events/388309081726170/
---
Friday, March 1

8:00am

Architecture Final Oral

Mānoa Campus, ARCH 314
8:00am

Bookstore Closed Friday March 1st

Honolulu Campus, Bookstore
9:00am

Architecture Final Oral

Mānoa Campus, ARCH 309
10:00am

Architecture Final Oral

Mānoa Campus, ARCH 309
11:00am

Architecture Final Oral

Mānoa Campus, ARCH 309
1:30pm

Architecture Final Oral

Mānoa Campus, ARCH 314
1:30pm

Second Language Studies Final Oral

Mānoa Campus, Moore 258
2:30pm

Architecture Final Oral

Mānoa Campus, ARCH 215
2:30pm

Architecture Final Oral

Mānoa Campus, ARCH 214
3:30pm

Earth Sciences Seminar

Mānoa Campus, POST 723
4:00pm

Architecture Final Oral

Mānoa Campus, ARCH 314
5:00pm

Family Advantage! Program Nights

Mānoa Campus, 2727 Woodlawn Drive, Honolulu, HI. 96822
6:00pm

Opening Night: SymbioSEAS Science-Art Exhibit

Mānoa Campus, The ARTS at Marks Garage (1159 Nuuanu Ave, Honolulu, HI 96817)
6:00pm

2019 Hong Kong Alumni and Friends Event

The Leighton at Lanson Place, 133 Leighton Road, Causeway Bay, Hong Kong
7:30pm

Yang Jing, pipa (Two Concerts)

Mānoa Campus, Orvis Auditorium