Opening events for "Weston Teruya: Expansion (land.water.sky)"
March 3, 2:00pm - 3:00pm
Mānoa Campus, The Art Gallery, Dept. of Art + Art History
---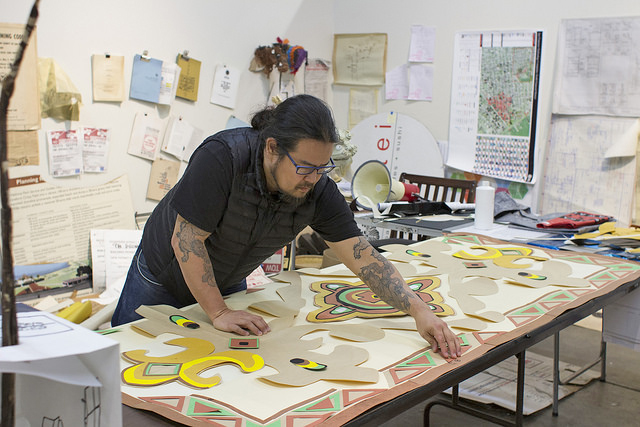 WESTON TERUYA
February 25 – March 22, 2019
Commons Gallery
Events + Programs (events are free and open to the public)
Sunday, March 3
2:00 - 3:00 p.m., Gallery walkthrough with artist Weston Teruya
3:00 - 5:00 p.m., Joint opening reception with 2019 MFA Thesis Exhibition (The Art Gallery & Commons Gallery)
Thursday, March 7
4:45 - 5:45 p.m., Artist talk (Room 101, lecture hall)
Weston Teruya is known for his paper sculptural installations that examine the social dynamics, textures, and histories of specific sites. He is producing a new project, Expansion, on site during his residency. Expansion looks at the hyperdevelopment of the built environment in the Ward and Kaka'ako neighborhoods on O'ahu. This examination threads together a history of infill, glass bottomed balcony pools with ocean views, techno-libertarian seasteading dreams amidst Pacific garbage patch gyres, and Elon Musk's launch of a Tesla into orbit. The piece contends with the refuse and dislocations left in the wake of moneyed incursions across the land, water, and into the sky; from Hawai'i to California and into space. Expansion centers on a paper sculptural installation and video that incorporates elements like red dirt from Kaka'ako, soil from Silicon Valley in California, and discarded materials also gathered from those areas, formed into small sculptures. In the end, Expansion strips away the ostentatious gloss to find the linkages between these historic and contemporary moments.
Event Sponsor
Art + Art History, Mānoa Campus
More Information
Sharon Tasaka, (808) 956-8364, tasakas@hawaii.edu, https://hawaii.edu/art/weston-teruya/
---
Sunday, March 3

8:30am

Sand Island Beach Cleanup with Waikiki Aquarium

Sand Island State Recreation Area
2:00pm

Opening events for "2019 Masters of Fine Arts Thesis Exhibition"

Mānoa Campus, The Art Gallery, Dept. of Art + Art History
2:00pm

Opening events for "Weston Teruya: Expansion (land.water.sky)"

Mānoa Campus, The Art Gallery, Dept. of Art + Art History
3:00pm

"Rise of the Wahine" Public screening

Mānoa Campus, 1601 John A Burns Hall
6:15pm

Mardi Gras Soirée

Mānoa Campus, Newman Center, 1941 East West Rd, Honolulu, HI 96822